Jul. 20 - Jul. 24, 2016
Wednesday-Sunday
Following its initial performances last year in New York City, LUNT AND FONTANNE: The Celestials of Broadway will have its regional theater premiere at the Classic Theatre of San Antonio starting July 20th. This fast-paced new comedy/drama covers the extraordinary partnership of the most famous forgotten actor-couple, The Lunts, from the 1920s through World War II, to the opening night of The Visit on Broadway in 1958, with cameos by friend Laurence Olivier, Noel Coward and Marlon Brando.
The legendary duo of Alfred Lunt and Lynn Fontanne are played by real life married actor-couple Mark E. Lang and Alison Murphy, who met whilst performing in Cape May, New Jersey. They have worked together numerous times on stage. LUNT AND FONTANNE was written by Mark E. Lang, inspired by a comment from a theater-goer who exclaimed, "You two are becoming the Lunt & Fontanne of South Jersey."
The production is directed by award-winning director Owen Thompson, whose highlights include critically acclaimed Off-Broadway productions of The London Cuckolds produced by Protean Theatre at Davenport Theatre and The Imaginary Invalid for The Actors Company Theatre (TACT) at Theatre Row. The creative team includes costume design by Jessa-Raye Court & Viviane Galloway and sound design by Richard Frohlich of Arlington, Texas.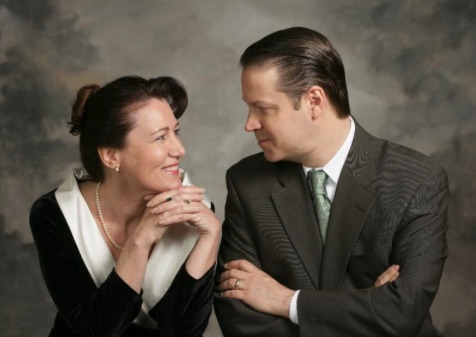 ---
Lunt and Fontanne: The Celestials of Broadway
by Mark E. Lang and Alison Murphy
Classic Theatre of San Antonio
Wednesday-Sunday,
July 20 - July 24, 2016
LUNT AND FONTANNE: The Celestials of Broadway will run July 20-24. Show times are Wednesday – Friday at 8 p.m. and Sunday at 3 p.m. Tickets prices are $20. Call the box office for tickets or group rates: (210) 589-8450 or purchase tickets online atwww.classictheatre.or here:

There is no service charge for using the ticket service. Classic is located at 1924 Fredericksburg Rd, in the heart of the Deco district. The theatre has handicap accessibility.