Review: Lunt and Fontanne: The Celestials of Broadway by Classic Theatre of San Antonio
by Kurt Gardner
Prior to making its New York premiere at the New York Fringe Festival this coming August, Lunt and Fontanne: The Celestials of Broadway is making a welcome — if brief — stop at the Classic Theatre in San Antonio.
Real-life acting couple Mark E. Lang and Alison Murphy play Alfred Lunt and Lynn Fontanne, another real-life acting couple who took Broadway by storm in the early years of the last century, even getting a theater named for them.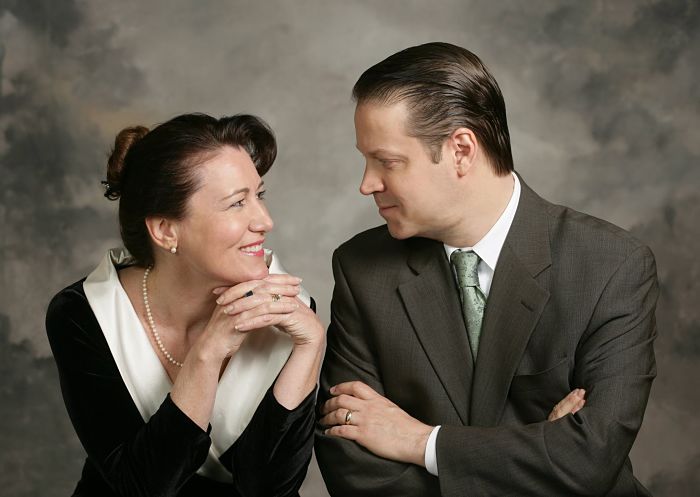 Ironically, they are all but forgotten today except by the most die-hard aficionados, so this one-act piece (written by Lang) serves as a tribute to their legacy and provides an intriguing overview of theater history.
The play opens and closes in 1958 on the opening night of Swiss playwright Friedrich Dürrenmatt's The Visit, their last show together. What follows is a colorful memory piece that chronicles the evolution of their lives and careers over four decades.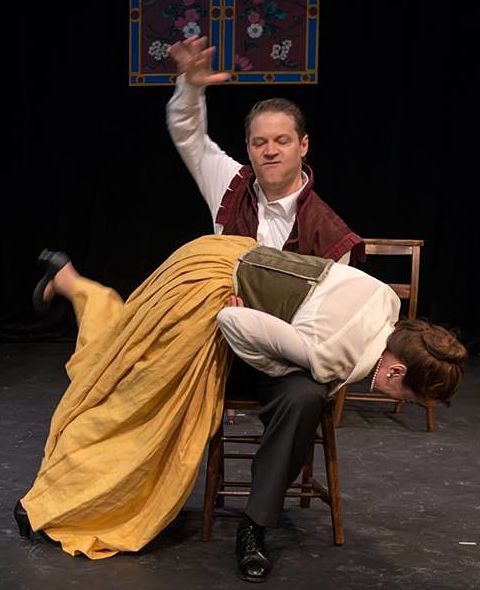 The couple caused quite a stir in the early years, performing in saucy productions of Taming of the Shrew and Noel Coward's risqué Design for Living, which put Lunt, Fontanne, and Coward in a happy threesome. Hollywood beckoned in the early '30s, where they traveled to make one film (The Guardsman) and then never came back, even when offered a lucrative multi-picture deal. Their first and only love was the theater.
When World War II ravaged the English-born Fontanne's beloved London, she insisted they take a risky trip to perform Sherwood's inspiring drama There Shall Be No Night on the West End. As air raid sirens howled and bombs thundered outside, Lunt ordered the stage manager to keep the curtain up.
In the 1950s, Broadway underwent a radical change as edgy works by playwrights like Arthur Miller and Tennessee Williams were wowing audiences. The play portrays Lunt as feeling irrelevant in this new world, crushed when he wasn't even considered for the lead in Miller's Death of a Salesman.
Lang and Murphy are marvelous as the titular couple, as well as the other characters they morph into as the need arises (Lang particularly delivers an amusing Brando) by means of simple onstage costume changes. Lunt and Fontanne is a warm, fully-formed portrait of a theatrical partnership that managed to stand the test of time.
Lunt and Fontanne: The Celestials of Broadway has only a few performances left: Thursday, Friday and Saturday at 8 p.m. and Sunday at 3 p.m., so make your reservations now.
The Classic Theatre is located at 1924 Fredericksburg Road. Tickets can be obtained online or by calling (210) 589-8450.
-- Kurt Gardner's reviews appear at www.BlogCritics.com also.
---
Lunt and Fontanne: The Celestials of Broadway
by Mark E. Lang and Alison Murphy
Classic Theatre of San Antonio
Wednesday-Sunday,
July 20 - July 24, 2016
LUNT AND FONTANNE: The Celestials of Broadway will run July 20-24. Show times are Wednesday – Friday at 8 p.m. and Sunday at 3 p.m. Tickets prices are $20. Call the box office for tickets or group rates: (210) 589-8450 or purchase tickets online atwww.classictheatre.or here:

There is no service charge for using the ticket service. Classic is located at 1924 Fredericksburg Rd, in the heart of the Deco district. The theatre has handicap accessibility.