Mar. 31 - Apr. 03, 2016
Thursday-Sunday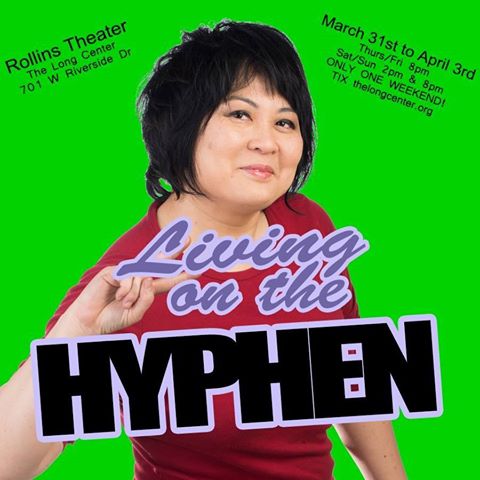 Meet the zany residents of Hyphen! A devised multi-media narrative piece with a protagonist, a main ensemble and a secondary ensemble. Imagine the child-like wonder of Alice in Wonderland coupled with the dark humor of Hitchhiker's Guide.

In this whimsical and poignant theatrical journey into the world of the Hyphen, various characters straddle dualities, cultural identities and question relationships. Drawing on the personal experiences of the cast and director, this oftentimes comedic tale of self-discovery incorporates spoken word, live music, Bharata Natyam dance of India, Chinese dragon dance, and more.

Join us as these human stories, based on the duality of the Asian-American experience, relate the universal truths that we all face as we straddle the hyphen of life.

One of the most multi-cultural comedic play you'll ever see in Austin!
A coproduction of Lucky Chaos Theater and Productions and Austin Dance India
Directed by Leng Wong. Dance and choreography by Anuradha Naimpally. Written by Leng Wong and the Ensemble. The Ensemble is JooHee Anh, Soumya Ashok, Purna Bajekal, Jay Byrd, Jeffery Johnson, Jesus Valles.

Live original music by Rishi Bajekal (doumbek), Eddie Hsu (flute), Toshio Alan Mana (bass) and Amie Macieszewski (sitar).
---
Living on the Hyphen
by Leng Wong and Lucky Chaos theatre ensemble
Lucky Chaos Theatre Projects
Thursday-Sunday,
March 31 - April 03, 2016
Rollins Theatre
Long Center
701 Riverside at South First,
Austin, TX, 78704
March 31st, April 1st, and April 2nd @ 8 pm
April 2nd and 3rd at 2 pm @ 2 pm and 8 pm
Rollins Theater, The Long Center, 701 W Riverside Dr

Tickets: $50 premium, $35 general, $25 student/senior
www.thelongcenter.org
promo code: HYPHEN (15% off ends Mar 12!)