Aug. 19 - Sep. 11, 2016
Thursdays-Sundays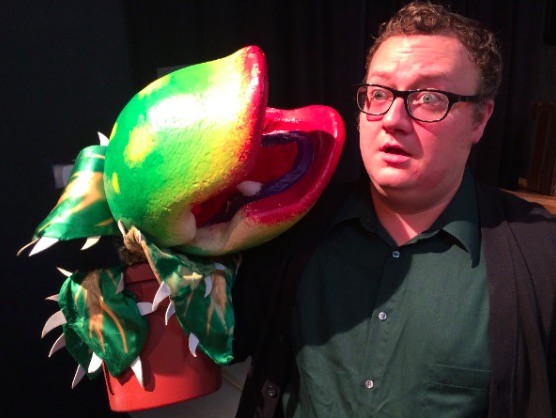 The out-of-this-world hit musical!
August 19 – September 11 at City Theatre, Austin.
Book and Lyrics by Howard Ashman Music by Alan Menken
Based on the film by Roger Corman, screenplay by Charles Griffith
Feed the need for musical hilarity with this screamingly funny, gleefully twisted, deviously delicious hit musical. Little Shop of Horrors has devoured the hearts of theatre goers for over 30 years. Howard Ashman and Alan Menken (Disney's The Little Mermaid, Beauty and The Beast, and Aladdin) are the creative geniuses behind what has become one of the most popular shows in the world.
Seymour is a nerdy floral clerk with a knack for plants, and one peculiar plant he's tending might just be his ticket to fame, fortune - and the girl of his dreams. There's only one teeny, but growing, problem: This plant has an unquenchable thirst for the red stuff (type O, A, or B... he's not picky) and Seymour ultimately discovers what this foul-mouthed, soul-singing, otherworldly carnivore is up to. Mixing Motown, B-movies, and The American Dream, Little Shop is a Broadway and Hollywood sci-fi smash musical.
Starring Craig McKerley, Lauren Beach, Emily Perzen, Annie Violette, Mallory Hoernig, LeRoy Nienow, Alex Koch, Heath Alyn, Mark Jespersen, Mike De Anda, and Creighton Moench. Directed by Matthew Burnett, Musical Direction by Thomas Azar, and Choreography by Danielle Ruth. Written by multi-award and Oscar winning composers Alan Menken and Howard Ashman, the two teamed up to write the music for a host of musical greats including Little Shop of Horrors, The Little Mermaid, Beauty and the Beast and Aladdin, writing such hit songs as "Be Our Guest," "Under the Sea," and the title song from Beauty and the Beast.
Directed by Matthew Burnett.
---
Little Shop of Horrors
by Alan Menken and Howard Ashman
City Theatre Company
Thursdays-Sundays,
August 19 - September 11, 2016
August 19 – September 11.
Thursday - Saturday 8:00 pm. Sunday 3:00 pm.
The City Theatre, 3823 Airport Blvd. Suite D. 78722.
Tickets $25. Two for $40. Center Reserved $30-$35. Students $15. Thursday all general seats $15. Group discounts available.
For reservations, call 512-524-2870 or e-mail info@citytheatreaustin.org. www.citytheatreaustin.org