Liberté Egalité Adoptée
by FronteraFest
Jan. 19 - Jan. 29, 2016
Tuesdays, Saturdays-Sundays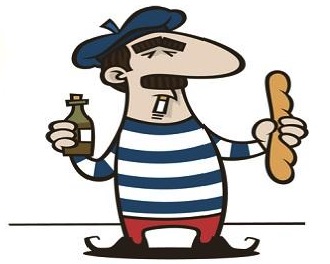 IN SEARCH OF 'FRENCH PAPA' AT FRONTERAFEST LONG FRINGE 2016
Liberté Egalité Adoptée is a new solo show by British-born writer and performer Maggie Gallant. Part of the FronteraFest Long Fringe, the four performances run between Tuesday January 19th to Sunday January 31st at Austin's Ground Floor Theatre.
The show premiered November 2015 at the SOLOCOM comedy festival in New York. It tells the story of the writer's search for her French birth father, from discovering at 11 that she was adopted to uncovering at 48 the pack of lies that put her poor 'French Papa' at existential risk.
Maggie first wrote about reuniting with her birth mother in the 2007 FronteraFest Short Fringe show 'Hot Dogs at the Eiffel Tower'. Liberté Egalité Adoptée is more than just an update to that story as Maggie begins to understand the perspectives of her parents, both adoptive and birth. And audiences certainly don't need to have personal experience of adoption to recognize the universal themes of fitting in, standing out and figuring out who the heck you are.
The show combines elements of stand-up, storytelling and drama to portray English village life in the 1970s, London in the 1980s and Ancient Greece around the time of Pandora.
---
Liberté Egalité Adoptée
by Maggie Gallant
FronteraFest
Tuesdays, Saturdays-Sundays,
January 19 - January 29, 2016
Hello everyone, here's the latest. The shows are going to happen!
Tomorrow night January 23 at 8:15 pm is on, so is next Sunday January 24 at 2:15 pm, and we've added a show next Friday night January 29 at 7 pm. (Monday night at 9:15pm is cancelled thank goodness!).
If you have bought your tickets you'll be getting a call from the festival people with the new info. If you decide to cancel your reservation I totally understand and they will issue a refund.
Sadly no other Austin theatre stepped up to host the Long Fringe shows but a wonderful performance group called The Back Pack have offered their space. It's not a traditional theatre but it is a very cool space on Cesar Chavez and Pedernales (pretty much opposite Counter Culture).
It only seats 40 so tomorrow night is sold out but the other 2 shows still have tickets available. I will post the new link for tickets to these shows a bit later on today.
We will have a lovely spirit of the Blitz singalong beforehand.
Oh and wine. Lots and lots of wine.
To buy tickets direct: https://secure.buyplaytix.com/hpt/reserve/libert_egalit_adopte.html