Review: Liberté, Égalité, Adoptée by Maggie Gallant, FronteraFest at The Back Pack, January 19 - 31, 2016
by David Glen Robinson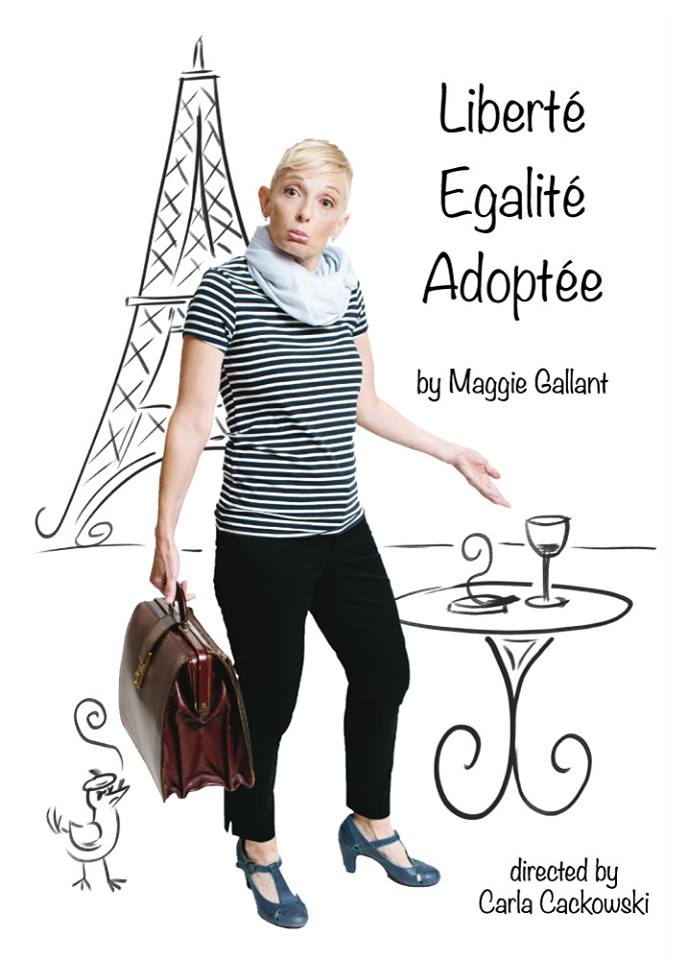 The true courage of any one-person show performer is awe-inspiring. To pull it all off successfully in performance doubles the kudos thrown to the performer. Maggie Gallant runs the table in her Liberté, Egalité Adoptée, showing at various times through January 31st at Ground Floor Theatre in east Austin as part of the Fronterafest Long Fringe festival.
This show compares favorably to last fall's Naked as a Gaybird, Jay Byrd's skilled and well-received one-man show at Salvage Vanguard Theatre. Both of these shows were autobiographical, as is typical of the form. One-person performance pieces require careful research and writing before they can translate to the stage, and, once mounted, they require demanding performances of speeches, movement, and character-play. Maggie Gallant's performance gave full value for the ticket price.
Her true-life tale is that of an adoptee, a story common to millions and instructive to all. Gallant offers a show-and-tell story of adoption in the U.K. in the 1960s, revealing its structure and societal attitudes toward births by unwed mothers. It is Gallant's own story of birth and adoption, and it features strongly the common adoptee's odyssey of seeking her birth parents, her "real" Mom and Dad. Like most, Gallant quickly runs up against personal history best left in the English Channel. In wise reflection, Gallant reviews the relevant Greek myth of Pandora, who, once she releases all the mortal ills and vices, can never put them back in the chest. Gallant relates this with humor throughout, but remember not to applaud when Hope rears her timid head from the bottom of the chest.
Indeed, Liberté, Egalité Adoptée is comedy of the real-life cinema verité variety. Through humor, Gallant advises us not to look back in fantasy to adults who rejected us, away from the parents who embraced us. Comedy is so often made stronger when it is tinctured with sadness and melancholy. This creates feelings around the edges of a story or image, like the band of fading around an old photograph. The band widens as the memory of the loved one fades in time as well.
Liberté, Egalité Adoptée has these qualities of humor, sadness and melancholy, and audiences might also enjoy it in an extended run elsewhere.
EXTRAS
Click to view the program sheet for Maggie Gallant's Liberté, Égalité, Adoptée
Promo via Square Bear Studio:
---
Liberté Egalité Adoptée
by Maggie Gallant
FronteraFest
Tuesdays, Saturdays-Sundays,
January 19 - January 29, 2016
Hello everyone, here's the latest. The shows are going to happen!
Tomorrow night January 23 at 8:15 pm is on, so is next Sunday January 24 at 2:15 pm, and we've added a show next Friday night January 29 at 7 pm. (Monday night at 9:15pm is cancelled thank goodness!).
If you have bought your tickets you'll be getting a call from the festival people with the new info. If you decide to cancel your reservation I totally understand and they will issue a refund.
Sadly no other Austin theatre stepped up to host the Long Fringe shows but a wonderful performance group called The Back Pack have offered their space. It's not a traditional theatre but it is a very cool space on Cesar Chavez and Pedernales (pretty much opposite Counter Culture).
It only seats 40 so tomorrow night is sold out but the other 2 shows still have tickets available. I will post the new link for tickets to these shows a bit later on today.
We will have a lovely spirit of the Blitz singalong beforehand.
Oh and wine. Lots and lots of wine.
To buy tickets direct: https://secure.buyplaytix.com/hpt/reserve/libert_egalit_adopte.html