Jul. 02 - Aug. 06, 2016
Wednesdays-Sundays
There may be as many versions of "Cinderella" as there are people telling the story; certainly similar tales are known in almost every culture around the world. La Cinderella, Magik Theatre founder Richard Rosen's version of the story, opens at 420 S. Alamo, at 2:00 p.m. on Saturday, July 2, for a six-week run.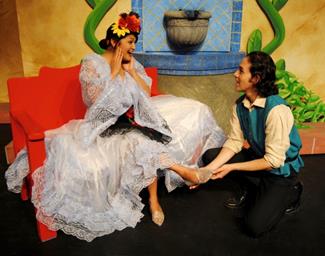 For the opening performance, Magik will kick off the show with a special celebration. Doors will open at 1:00 p.m. for activities including crafts and a visit from community partner The Fairy Godmother Project, an organization that provides prom dresses to girls that might not otherwise be able to afford them; they also provide workshops on empowerment and life success. The Fairy Godmother Project will accept both gown and monetary donations, and anyone donating a dress or at least $1 will receive a coupon for a free popcorn.
Opening-performance audience members are invited to wear their best going-to-the-ball garb. Showtime will be 2:00 p.m.
La Cinderella is a hilarious bilingual take on the classic story, set in colonial San Antonio: the governor of San Antonio de Bexar has a handsome son whom he determines will marry a local girl. Will La Cinderella find true love? Will the governor's son find La Cinderella? We all find out at the ball in the garden of the Governor's Palace, where luminarias and the full moon light the way to love and happiness.
The cast includes Richard Solis as Father Margil; Jovi Lee as Ella; Ashtyn Sonner as Theresa; Angela Hoeffler as Maria; Joe Cooley as Cristobal; David Ankrom as Marta; Cody Asher as Pepito; Sean Salazar as Banderas; and Dylan Collins as Ignacio/Cordova. La Cinderella is co-directed by Richard Rosen and Greg Hinojosa.
The show will run through August 6. Tickets are $15 for adults or $12 for children (children under two free), with group rates also available. Reservations are required – for tickets or more information, go to The Magik Theatre's webpage, or call (210) 227-2751.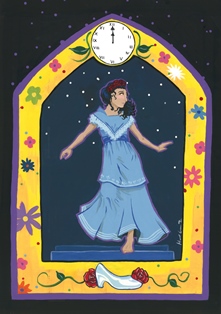 The Fairy Godmother Project San Antonio has been giving prom dresses to local girls since 2010. As part of their program, they present an annual girls' empowerment conference each year, covering topics like leadership, self-esteem, and college readiness. Attendance at the conference is the commitment the girls make in return for receiving the dresses of their dreams.
The Magik Theatre is San Antonio's professional family theatre. Founded in 1994, the theatre was created as a voice for young people and families throughout the region. Today, Magik stands proudly as San Antonio's only professional resident repertory theatre company, and has presented more than 160 main-stage and touring shows to over 2 million children and their families. The Magik Theatre, a 501(c)(3) non-profit, brings the world of creativity, learning and amazement to its audiences, and enhances the lives of children with disabilities and at-risk youth through its community education and outreach programs. For more information, visit magiktheatre.org.
---
La Cinderella
by Richard Rosen
Magik Theatre
Wednesdays-Sundays,
July 02 - August 06, 2016
Click to search dates/times and purchase tickets at www.magiktheatre.org
Opening performance July 2, 2016 at 1 p.m.
The Magik Theatre • 420 S. Alamo • San Antonio, Texas 78205