Apr. 21 - Apr. 26, 2015
Tuesday-Sunday
A musical version of William Shakespeare's The Taming of the Shrew and the conflict on- and off-stage between Fred, the show's director, producer, and star and his leading lady, his ex-wife Lilli. A secondary romance concerns Lois, the actress playing Bianca, and her gambler boyfriend, Bill, who runs afoul with some gangsters. Tony award winner for best musical in 1949.
"Kiss Me Kate has so much to offer with Cole Porter's most sophisticated score, moving relationships, and a whole lot of dancing. It has been exciting looking at an older musical through a fresh lens. By digging into this piece about passion in all its forms, it helps re-invigorate everyone's passion for theatre and for life," says Cassie Abate who is the director and choreographer for the musical.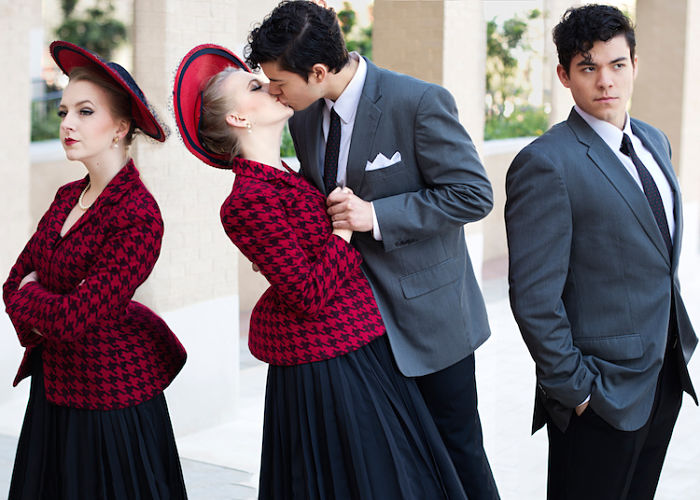 Poster design and artwork by Rodney Blair
[Wikipedia: Kiss Me, Kate was Porter's response to Rodgers and Hammerstein's Oklahoma! and other integrated musicals; it was the first show he wrote in which the music and lyrics were firmly connected to the script, and it proved to be his biggest hit and the only one of his shows to run for more than 1,000 performances on Broadway. In 1949, it won the first Tony Award presented for Best Musical.]
---
Kiss Me, Kate
by Cole Porter
Texas State University
Tuesday-Sunday,
April 21 - April 26, 2015
Opening Tuesday, April 21, and runs through Sunday, April 26. Every evening at 7:30 p.m. and an additional Sunday afternoon performance at 2 p.m.
All performances will be in the new Patti Strickel Harrison Theatre. Individual tickets start at $15 for adults and $8 for students, and may be purchased by phone at 512-245-6500 or online at txstatepresents.com.