May. 22 - Jun. 06, 2015
Thursdays-Sundays
Set during WWI, this whimsical anti-war allegory tells the story of a humble Scottish soldier, Charles Plumpick, who is sent into a supposedly evacuated French village. His mission: to locate and disarm explosives rigged by the Germans to destroy the Scottish battalion as they begin their occupation of the village. Once the lone soldier Plumpick arrives, he encounters strange inhabitants, even for the French. Unbeknownst to Plumpick, the escaped patients of a lunatic asylum have assumed the roles of the evacuated villagers.
Ultimately, the play questions the sanity of those who wage war.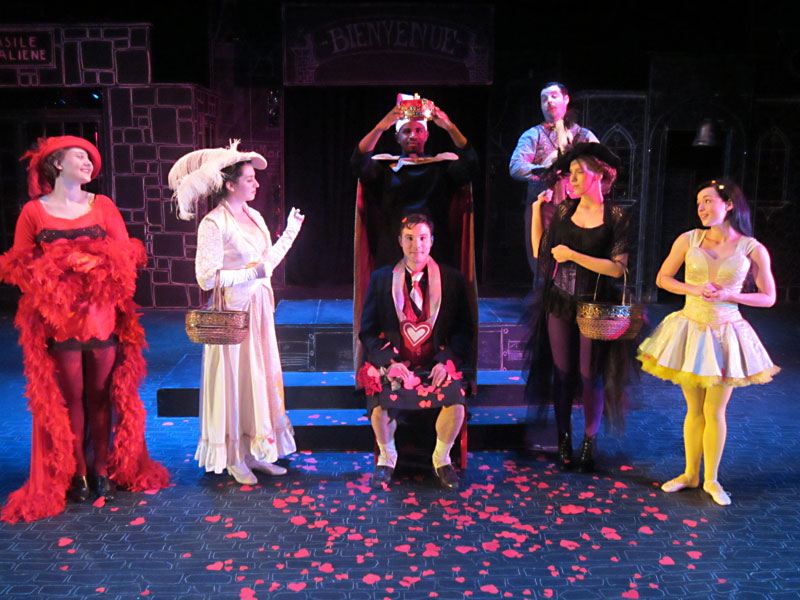 An original stage adaptation inspired by the French film of the same name by Philippe Broca (1966). Performed as a mime ballet with Chaplinesque moments and commedia dell'arte influences, the production features scenic design by Ia Enstera, lighting design by Natalie George, costume design by Talena Martinez, Mark Stewart as Plumpick, and a large ensemble guided by artistic director David Yeakle.
Opening performance is Friday, May 22, at 8 pm. All Thursday, Friday, and Saturday shows are at 8 pm; Sunday shows are at 6 pm.
Tongue and Groove Theatre is a sponsored project of the Austin Creative Alliance. This project is funded and supported in part by the City of Austin through the Cultural Arts Division and by a grant from the Texas Commission on the Arts and an award from the National Endowment for the Arts which believes that a great nation deserves great art.
---
King of Hearts
by David Yeakle, adapted from the Philippe de Broca film
Tongue and Groove Theatre
Thursdays-Sundays,
May 22 - June 06, 2015
Thursdays - Saturdays at 8 p.m.; Sundays at 6 p.m.
Tickets to performances May 22 - May 31 are $15; closing weekend performances, June 4, 5, and 6 are $20. Group discounts are available for 10 or more. Tickets are available online through