Sep. 10 - Sep. 20, 2016
Mondays-Tuesdays
Central Texas' most well-known children's theatre company, Pollyanna Theatre, is bringing Jamie Doesn't Want to Take a Bath by playwright Bethany Lynn Corey to Round Rock, September 10 and 17 at the Allen R. Baca Center, 301 W Bagdad Avenue, and September 12, 13, 19 and 20 at the Round Rock Public Library. Pollyanna is thrilled to deliver an interactive theatre experience to Round Rock's youngest audience members and looks forward to partnering with Round Rock arts organizations to expand children's programming.
Created to engage children as young as 18 months - 4 years of age, Jamie Doesn't Want to Take a Bath uses a visual theatre style performance and invites the young audience to play right alongside the actors. It is classified as 'Theatre for the Very Young' (TVY) - an umbrella term to describe a variety of theatre work and practices intentionally designed for children under the age of six.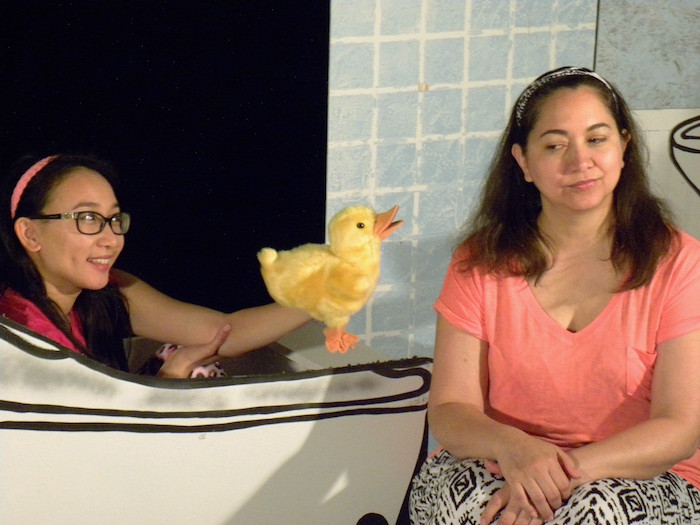 While TVY is widely performed in Europe and Australia, it has only begun to appear in the US within the past 10 years, and Pollyanna Theatre Company is the first professional theatre company to bring it to the Central Texas region.
In this new play, Jamie's mother is surprised when suddenly, the night before Jamie's first day at pre-school, Jamie simply refuses to take her bath. Young audience members will watch while Jamie's mother tries all sorts of things to get her into the tub and to bed on time. The play presents a fun and tender tug of war that many children and caregivers will recognize. Jamie Doesn't Want to Take A Bath invites Pollyanna's youngest audience members to play along with Jamie and learn what it is to be an audience member all at the same time.
With the special emphasis that the City of Round Rock is giving to arts in the downtown area and with the growing number of young families in the Round Rock community, Pollyanna Theatre is pleased to present the first of many upcoming performances in downtown Round Rock. As new facilities for the arts become available in the area, Pollyanna anticipates having a regular performance schedule that will bring children's productions to Williamson County and complement our ongoing production season in Austin.
Judy Matetzschk-Campbell says, "Round Rock families have always been an important part of Pollyanna's audience. But with it becoming more and more difficult for families to travel into Austin's downtown area, having a way to serve this sector of our audience by bringing professional theatre for young audiences to them in downtown Round Rock is a very exciting step for our company. This is an exciting way for Pollyanna to get to know more Round Rock parents and teachers and for them to get to know about the quality of our work. We look forward to many great, new relationships with Round Rock's youngest citizens."
In addition to public performances, Jamie Doesn't Want to Take a Bath is also available for schools, daycare centers and camps throughout Central Texas.
ABOUT POLLYANNA THEATRE COMPANY: The founders of Pollyanna Theatre Company believe that theatre is a powerful teaching tool that speaks to people of all ages in a unique and powerful way through a variety of visual, aural, and emotional languages. Therefore, theatre should be a part of all general education from pre-kindergarten through adulthood. Toward that end, The Pollyanna Theatre Company strives to work alongside educators to inspire, motivate, and teach audiences of all ages. Although the company's primary focus is upon young audience members, the ensemble performs top quality theatrical productions that speak to and illuminate the human spirit and condition for all ages. www.pollyannatheatrecompany.org
ABOUT THE PLAYWRIGHT: Bethany Lynn Corey serves as the Drama Specialist for the Creative Learning Initiative in the Austin Independent School District. Prior to this she served as the Early Learning Manager for the Thinkery, a Children's Museum in Austin, TX, focused on STEAM education. She received her M.F.A. from the University of Texas at Austin, where much of her research involved the use of drama and theater for children under the age of six, and a dual B.A. in Music and Theatre for Children and Public Communications from American University. Bethany has worked nationally and internationally as an actress, director, and teaching artist. She identifies herself as a teaching artist, as she places equal value on both her educational and artistic work, with her practice firmly rooted in theory and scholarship. As a teaching artist, Ms. Corey has worked on curriculum development, in-class residencies, and teacher training programs for a wide range of organizations, including Drama for Schools, Paramount Theatre, Trike Theatre, and Imagination Stage. As both an artist and an educator, Ms. Corey is uniquely prepared to create early childhood work of equal artistic and educational significance. She has numerous credits as an actress, director, choreographer, and theater-maker. In the past five years, her work has shifted to focus on creating original work in Theatre for the Very Young, theatrical performances specifically designed to serve children under the age of six. Her work led to the creation of the SPARK! Theatre Ensemble as well as original pieces produced by Trike Theatre and Pollyanna Theatre.
---
Jamie Doesn't Want to Take a Bath
by Bethany Lynn Corey
Pollyanna Theatre Company
Mondays-Tuesdays,
September 10 - September 20, 2016
Performances
Presented at The Round Rock Public Library

Saturday, September 10 at 9 a.m.
September 12 at 11:00 a.m.
September 13 at 9:00 a.m.

Saturday, September 17 at 9 a.m.
September 19 at 11:00 a.m.
September 20 at 9:00 a.m.

You can learn more about us and this production at

www.pollyannatheatrecompany.org

, and if you have any questions, call us at (512) 743-7966.​

Tickets $7.72 including fees via

Tour Info:
Also available to tour to Round Rock Schools on September 15, 16, 22, 23, and 26. Can present the play up to four times in one day in the same setting if needed to accommodate a campus with a large number of pre-k and kindergarten students.

Tickets $7.72 including fees via
Contact Us
To reserve weekday tickets, or for more information, call or email us.