Is There Life after Lubbock?
by Jaston Williams
Mar. 24, 2016
Thursday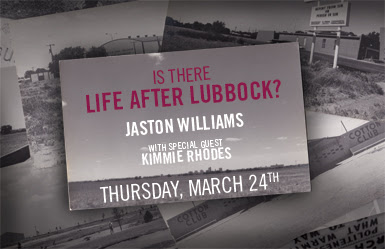 Comedian, actor, storyteller and writer Jaston Williams of Greater Tuna fame is joined on stage by Texas musician Kimmie Rhodes as they ponder the question - Is There Life After Lubbock? Don't miss this intimate superb performance - filled with stories, music and side-splitting humor March 24th only; 8pm at Stateside at the Paramount.
It's an eternal mystery of Texas life how Lubbock can spawn so many creative people-home to the likes of Buddy Holly. Described by Williams as "theatrical, but it's not really theatre" and "musical, but it's not really a concert," the show is something like old friends sitting around, swapping stories and songs about the crazy town where they all used to live. Although Williams was not reared in Lubbock, he spent enough time there as a student at Texas Tech to know how living in the high plains of Texas can shape a person.
Named "…one of Texas' best storytellers!" by the Austin American-Statesman and recipient of the 2013 Texas Medal of Arts Award, don't miss this chance to join Jaston Williams alongside singer-songwriter Kimmie Rhodes for "an evening filled with poetry, stories (real or otherwise), music, never before performed material, audience talkback and a lot of laughs. Hear about everything from the cocktail mixing airplane pilot to the ocelot in the bedroom. Wear your house-shoes, sip on longnecks and try to help answer the burning question, Why Lubbock?"
---
Is There Life after Lubbock?
by Jaston Williams
Jaston Williams
Is There Life After Lubbock? plays one intimate performances Stateside at the Paramount March 24th only; at 8pm. Tickets on sale now at AustinTheatre.org, by calling (512) 474-1221 or in person at the Paramount Theatre Box Office.