Sep. 23 - Oct. 18, 2015
Wednesdays-Sundays
An intellecutal debate by two brilliant minds, the young Oxford don C.S. Lewis and the legendary psychoanalyst Dr. Sigmund Freud, discussing everything from love and sex to the meaning of life and the existence of God.
Although there is no historical record that the two men ever actually met, Lewis and Freud certainly knew of each other. This supposed meeting is set in Freud's London home on September 3, 1939, the day that Great Britain entered World War II. With frequent BBC news broadcasts concerning the war as a backdrop for the action of the play, the threat of death is in the air and on both men's minds.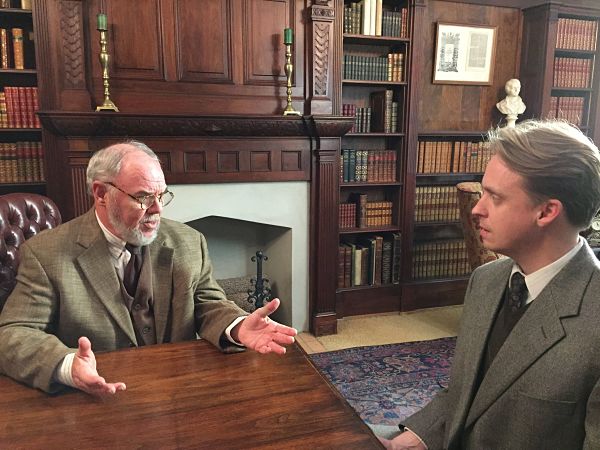 "I was drawn to 'Freud's Last Session' first by a 2011 theatre review in the Wall Street Journal," says producer David Jarrott. "When I visited New York in January of 2012, I immediately got a ticket to see the production. I was so impressed with this play that I wanted to be the first to showcase it here."


"Freud's Last Session" will feature Tyler Jones as C.S. Lewis and David R. Jarrott as Sigmund Freud, and will be directed by Fritz Ketchum. Our creative team also includes Production Manager Lisa Goering, Stage Manager Zoe Riemer, Scene & Prop Designer Leslie Ann Turner, Lighting Designer Rachel Atkinson, Costume Supervisor Susan Branch Towne, House Manager Denise Hodgson, Media Intern Kenneth Williams, Graphic/Web Design Michael Jarrott, Audio Consultant Craig Brock, PR Consultant Cathy Conley, and Volunteer Coordinator Beth Warren.
Feature by Robert Faires in the Austin Chronicle, September 24, 2015
---
Freud's Last Session
by Mark St. Germain
Jarrott Productions
Wednesdays-Sundays,
September 23 - October 18, 2015
Trinity Street Players
Black Box Theatre, 4th floor, First Baptist Church
901 Trinity Street
Austin, TX, 78701
Wednesday, September 23rd through Sunday, October 18th, 2015.
Wednesday through Saturday performances will begin at 8 p.m. and Sunday matinees start at 2:30 p.m.
Tickets are $20 for general admission or $15 for seniors (60+) and students with valid IDs. Patrons can purchase tickets at www.jarrottproductions.com.