Fancy Nancy, the Musical
by Magik Theatre
Mar. 11 - Apr. 17, 2016
Wednesdays-Saturdays
Fancy Nancy and her friends are performing in their very first show, "Deep Sea Dances." Nancy is positive that she and her friend Bree will be picked to be mermaids. When another girl wins the coveted role, Nancy is stuck playing a dreary, dull tree. Can Nancy bring her fancy flair to the part, even though it isn't the one she wanted?
The first book in the Fancy Nancy series spent almost two years on the New York Times bestseller list, and proved to be so popular that the series now numbers more than 70 books, with a live theatrical play as a spin-off. Fancy Nancy: the Musical opened off-Broadway on 2012, and continues to run in New York. Now Nancy brings her special brand of fancy to San Antonio, as The Magik Theatre stages its own production of Fancy Nancy: the Musical.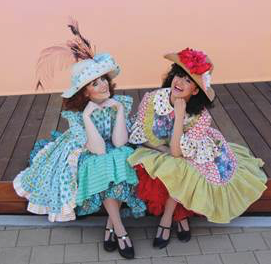 For opening night on Friday, March 11, Magik will kick off the show's run with a special celebration. Doors will open at 6:00 p.m. for activities including crafts; a visit from Ballet San Antonio dancers and representatives of the Girl Scouts; a chance to meet the cast; and an on-stage dance lesson. Opening-night audience members are invited to wear their fanciest finery. Showtime will be 7:00 p.m.
The cast includes Ashtyn Sonner as Fancy Nancy; Jovi Lee as Bree; Ginger Gamble Martel as Rhonda; Jackie Parma as Wanda; Devin Collins as Lionel; and Ariel Rosen as Mother. Director for Fancy Nancy: the Musical is Sam Weeks.
The show will run through April 17. Tickets are $15 for adults or $12 for children (children under two free), with group rates also available. Reservations are required – for tickets or more information, go to The Magik Theatre's
webpage
, or call (210) 227-2751.
About Ballet San Antonio
Ballet San Antonio is the city's premier professional ballet company and the resident ballet company of the Tobin Center for the Performing Arts, reaching approximately 30,000 members of the community every year. As part of their mission to enrich and widen the community's exposure to the arts, Ballet San Antonio regularly collaborates with the San Antonio Symphony and partners with other area arts organizations to promote their work across audiences and media. Community performances include Luminaria, the Artist Foundation's Art Ball and Fiesta events, among many others. In addition, the ballet company's educational program Learning That Moves You brings ballet to thousands of children throughout greater San Antonio. In 2014, a partnership with the Boys and Girls Clubs of San Antonio led to a collaboration with American Ballet Theatre's prestigious "Project Plié," an initiative to increase ballet's racial and ethnic representation and diversify America's ballet companies.
About Girl Scouts of Southwest Texas
Headquartered in San Antonio, Texas, the Girl Scouts of Southwest Texas serve over 23,500 Girl Scouts across 21 counties. The Council believes in its responsibility to arm today's Girl Scouts with the knowledge and skills necessary to lead, offering activities in a variety of fields and seeking out unique opportunities for girls. The Girl Scouts organization is the experts on girls and leadership. They value diversity, and teach girls to lead healthy lifestyles, care for the environment, study new technologies and have pride in their country. Girl Scouts of Southwest Texas is a chartered Council of Girl Scouts of the USA to provide programs to the counties within their region.
About The Magik Theatre
The Magik Theatre is San Antonio's professional family theatre. Founded in 1994, the theatre was created as a voice for young people and families throughout the region. Today, Magik stands proudly as San Antonio's only professional resident repertory theatre company, and has presented more than 160 main-stage and touring shows to over 2 million children and their families. The Magik Theatre, a 501(c)(3) non-profit, brings the world of creativity, learning and amazement to its audiences, and enhances the lives of children with disabilities and at-risk youth through its community education and outreach programs. For more information, visit
magiktheatre.org
.
---
Fancy Nancy, the Musical
by based on the book by Nancy O'Connor
Magik Theatre
Wednesdays-Saturdays,
March 11 - April 17, 2016
Click to search dates/times and purchase tickets via www.magiktheatre.org
420 South Alamo Street, San Antonio, Texas, 78205
Tickets:
Adults: $15
Children: $12
Senior/Military discounts available.