May. 29 - Jun. 27, 2015
Fridays-Saturdays
Becky is the new girl at a DMV office and as she gets to know her lazy co-workers and bizarre clients, she also encounters a nameless fellow worker known only as The Woman, whose apparent insanity is accepted and ignored by everyone else. This zany workplace comedy veers off in a violent twist as events unfold and the characters' true identities are revealed.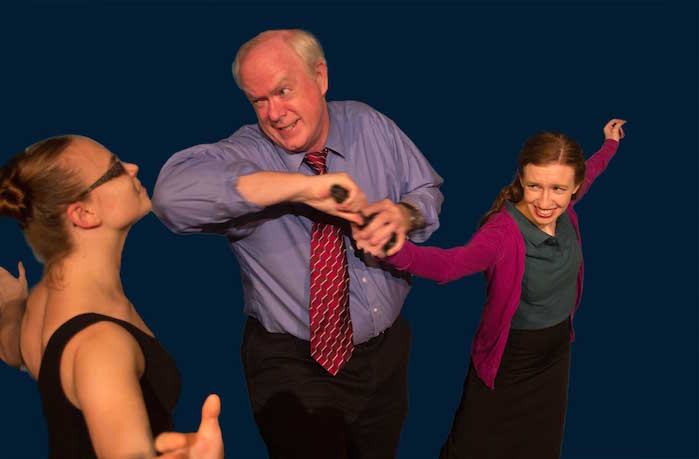 Cast/Crew: Cast, in order of appearance:

The Woman: Chrissy Quattro
Becky: Sarah Nixon
Steve: Kareem Dahab
Michelle: Vicky Liendo
DMV Customers: BK McKee & Cristina Vazquez
Brother/Shadowy Figure 1: Laura Epstein
Brother/Shadowy Figure 2: Michele Wisniewski
Clint: Jay Overton

Directors: William M. Razavi & Emily Fitzgerald
Stage Manager: Cristina Rodriguez
Sarah Goodwin has never written a play before and thinks it is really amazing that the Overtime gives people like her the chance to have their play produced. She's spent the majority of her life in school, having finished her master's degree just a few weeks before Drive Me Crazy. She has frequently found refuge on the OT stage and while it will be hard to top her most recent role as the Red Queen in season one of Queen's Castle, this writing thing is pretty groovy.
Emily Fitzgerald is the Promotions Director of the Overtime Theater and Executive Director of The Southwest Association of Literary and Dramatic Artists (SWALDA.) A few of her favorite past directing projects were And Then There Were None, 12th Night, or What You Will, Julie, The Professionals, and most recently her own original play, A Numbers Game, produced this past spring at the OT.
William M. Razavi is the artistic director of the Overtime Theater and a founding member of SWALDA. An MFA playwright, his plays include Julie, Macbeth, The Next-To-Last-Flight of Amelia Earhart, Lusitania, Mavis Davis and the Nighthawks at the Diner, The Private Life of Ernest Hemingway, The Ricky Harrow Pitcher Show, Illuminati and Sullivan's Detours. His newest play, 27 Short Plays About Being Murdered in a Hotel by ABBA, will be performed at the Overtime in July.
---
Drive Me Crazy
by Sara Goodwin
Overtime Theater
Fridays-Saturdays,
May 29 - June 27, 2015
Fridays at Saturdays at the Overtime, 8 p.m.; Thursdays June 11 and 25 at 8 p.m.; Sunday, June 7 at 2:30 p.m and Sunday, June 21 at 7 p.m.
Tickets: $14.00 - General Admission; $10.00 - Teachers, Students, Military, Seniors, Area Service Industry. Thursday nights are Pay What You Will.
Tickets via