Sep. 15 - Sep. 25, 2016
Thursdays-Sundays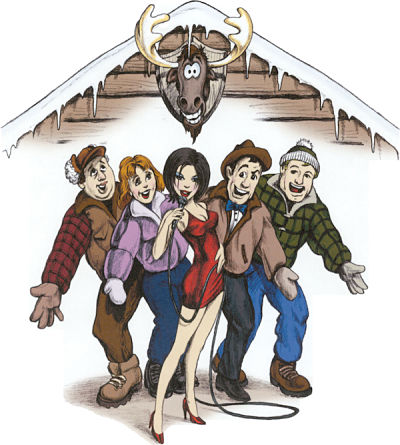 HCCT opens its 2016-17 season with the hilarious musical comedy Don't Hug Me, book and lyrics by Phil Olson, music by Paul Olson.
Don't Hug Me is a love story (with singin' and stuff) set in Bunyan Bay, MN. Cantankerous bar owner Gunner Johnson (Seth Smith) wants to move to Florida. His wife, Clara (Kay Baker) wants to stay. The pretty waitress, Bernice (Mandi Whittlesey), wants a singing career. Her fiance, Kanute (Kyle Hirning), wants her to stay home. When fast-talking salesman Aarvid (Jonathan Kroese) promises to bring romance into their lives through the magic of karaoke, all heck breaks loose.
Featuring the musical stylings of world-famous Sven Yorgensen, whose hits include "I'm a Walleye Woman in a Crappie Town," "My Smorgasbord of Love," "The Bunyan Yodel," "I Wanna Go to the Mall of America," "Upside Down in my Pickup Truck" and "The Ice House Blues."
Don't Hug Me was a smash hit in Los Angeles, where it won four Artistic Director Achievement Awards, including Best Original Musical.
[Poster photo from HCCT shows Seth Smith, Kay Baker, Mandi Whittlesey, Jonathan Kroese, Kyle Hirning.]
---
Don't Hug Me
by Phil Olson and Paul Olson
Hill Country Community Theatre (HCCT)
Thursdays-Sundays,
September 15 - September 25, 2016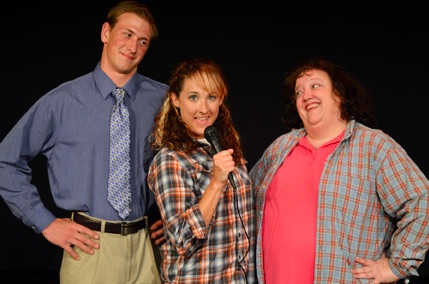 Don't Hug Me will be presented at the Hill Country Community Theatre, 4003 W FM 2147, Cottonwood Shores, TX 78657. The show will open on September 15 and run through the 25th. Performances will be on Thursdays, Fridays, and Saturdays at 7:30 PM and Sunday matinees at 2:15 PM.
Admission is $25 for adults and $12 for students with a valid ID. Reservations can be made by calling (830) 798-8944, online at www.theHCCT.org, or at the box office (12:00 noon to 4:00 PM, Monday through Friday) beginning September 5 for HCCT season subscribers and September 8 for the general public.