Feb. 18 - Mar. 06, 2016
Thursdays-Sundays
Tony Wendice (Glen Bird) has married his wife, Margot (Alexandria Randolph), for her money and now plans to murder her for the same reason. He arranges the perfect murder. He blackmails a scoundrel, Lesgate (Guy Gober) he used to know into strangling her for a fee of one thousand pounds, and arranges a brilliant alibi for himself. Unfortunately, the murderer is murdered and the victim survives. However, this does not baffle the husband: He sees his hireling's death as yet another opportunity. Add in the old boyfriend Max (Patrick Lescarbeau), the detective Hubbard (Randy Hilmer), and Officer Thompson (Corey Bogue) for a battle of good against evil in scene after scene of suspense. This production is under the direction of Mike Rademaekers with assistant director Holden Fox.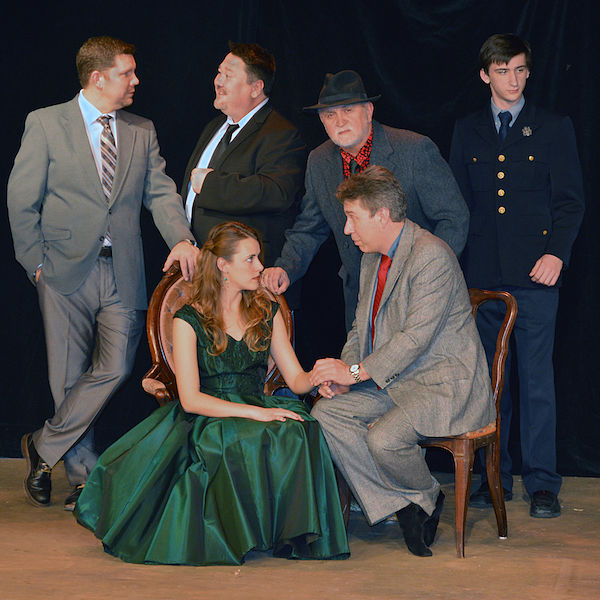 Wikipedia: Dial M for Murder is a 1954 American crime thriller film directed by Alfred Hitchcock, starring Ray Milland, Grace Kelly, and Robert Cummings. The screenplay and the successful stage play on which it was based were both written by English playwright Frederick Knott, whose work often focused on women who innocently become the potential victims of sinister plots. The play premiered in 1952 on BBC television, before being performed on stage in the same year in London's West End in June, and then New York's Broadway in October.
---
Dial M for Murder
by Frederick Knott
Hill Country Community Theatre (HCCT)
Thursdays-Sundays,
February 18 - March 06, 2016
Dial M for Murder, by Frederick Knott, will open on February 18 and run for three weeks through March 6. Performances will be on Thursdays, Fridays, and Saturdays at 7:30 PM and Sunday matinees at 2:15 PM.
Admission is $20 for adults and $10 for children and students with a valid ID. Reservations can be made by calling (830) 798-8944, online at
www.theHCCT.org
, or at the box office (12:00 noon to 4:00 PM, Monday through Friday) beginning February 8 for HCCT members and February 11 for the general public.
For more information, please call the theatre at (830) 693-2474 or send an email to director@thehcct.org.