Jan. 21 - Feb. 13, 2016
Thursdays-Saturdays
"You are safe here, Sister." Inside the compound walls, five fertile sister-wives enjoy many freedoms. Free sleep. Free Welches grape. Free laughter. Free denims of every length.
Set in a dystopian future (which feels a lot like the mid 1990s), Denim Doves is a collaboratively devised feminist farce that explores themes of women in subjugation and the hilarious consequences of a rigid dick-tatorship.
Feature by Jeanne Claire van Ryzin in the Austin Statesman, January 16, 2016
Feature on playwright Adrienne Dawes by Mikela Floyd and Ramona Flume in Texas Monthly, February, 2016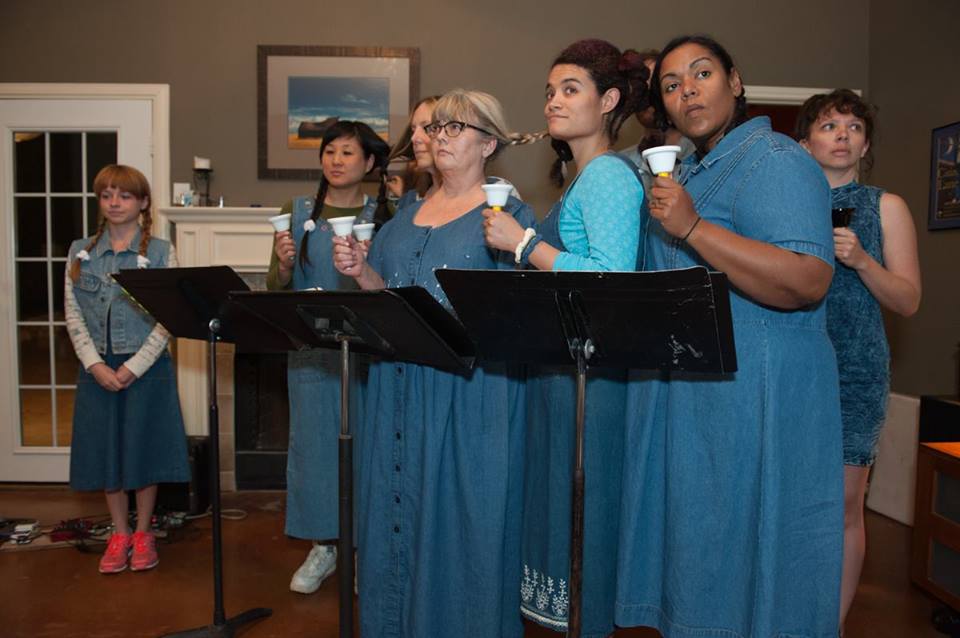 Directed by Florinda Bryant and Jenny Larson
Dramaturgy by Meredith Robbins
Cast: Kerri Atwood, Florinda Bryant, Henna Chou, Alyssa Dillard, Judd Farris, Jenny Larson, Renna Larson, Khattie Q, Erik Secrest and Cyndi Williams
Design: Kaci Beeler (set), Robert Fisher (sound), Natalie George (lights), Jessica Gilzow (costumes), and Rachel Long (props)
Collaborators: Florinda Bryant, Henna Chou, Judd Farris, Jessica Gilzow, Jenny Larson, Renna Larson, Erik Secrest, and Cyndi Williams.
ABOUT THE PLAYWRIGHT
: Adrienne Dawes' plays include Am I White, You Are Pretty, Jesus Loves Good Christians, and Heritage, Her-i-tage, and Hair-i-tage. Her work has been produced by American Repertory Theatre of London, Live Girls! Theatre, Little Fish Theatre Company, New England Academy of Theater, New Jersey Repertory Company, Hyde Park Theater, St Idiot Collective and American Theater Company (Chicago, IL). Her plays have been published by Playscripts, Inc, Smith & Kraus, Heuer Publishing, Heartland Plays and Vintage Books.
Adrienne is the recipient of the Stanley and Evelyn Lipkin Prize for Playwriting. Her play Am I White was a finalist for the 2012 O'Neill National Playwrights Conference and semifinalist for the 2012 Princess Grace Award. Am I White won the David Mark Cohen New Play Award (2015 Austin Critics Table Awards), an award for Outstanding Original Script (2015 B. Iden Payne Awards) and was honorably mentioned by The List (The Kilroys) of recommended new plays by female and trans authors. Adrienne is a member of ScriptWorks and a company member of Salvage Vanguard Theater. Austin, TX is her hometown #townie. www.adriennedawes.com
MADE IN THE SVT are theater works created, produced, or presented by Salvage Vanguard Theater company members.
Salvage Vanguard Theater (SVT) is a theater company and performance hub located in East Austin. SVT creates and presents transformative high-quality artistic experiences that foster experimentation and conversation.
---
Denim Doves
by Adrienne Dawes
Salvage Vanguard Theater
Thursdays-Saturdays,
January 21 - February 13, 2016
Thursdays - Saturdays at 8 p.m.
Salvage Vanguard Theatre, 2803 Manor Road
Tickets: Pay what you wish ($10 minimum + processing fees) via BuyPlayTix at

Friday Jan 29th - Bedpost Confessions host a talk-back following the performance of Denim Doves.
*Feb 6th Super Harvest Super Party tickets start at $35 and include free celestial cocktails, free futuristic appetizers, and a post-show party with the creative team. Please wear your finest denims and fanciest braids.