Dec. 16 - Jan. 08, 2015
Wednesdays-Sundays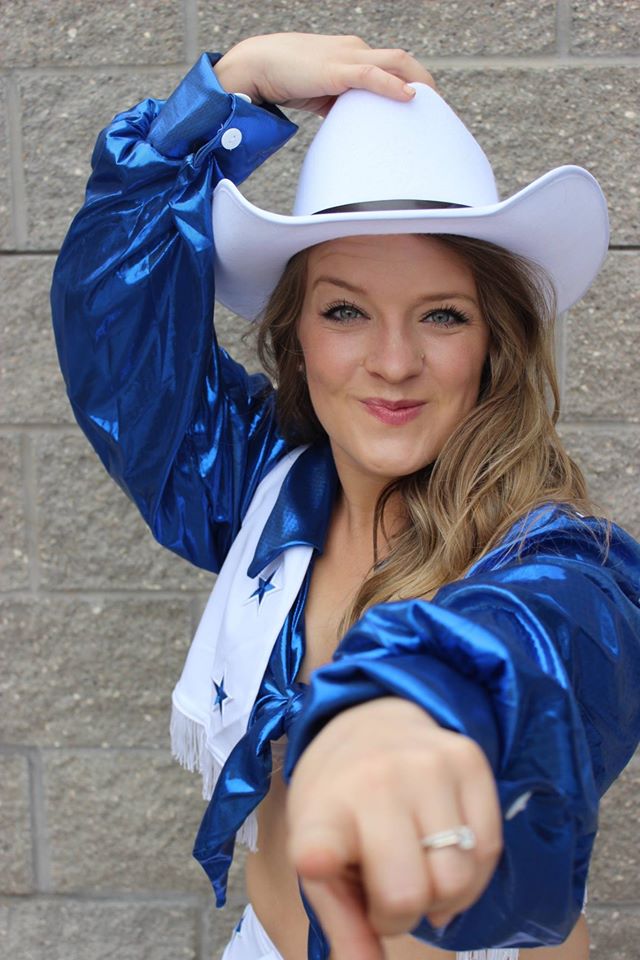 In December, Austin will be filled with loads of holiday entertainment (Christmas Carol at Zach, It's a Wonderful Life from Penfold, Ballet Austin's Nutcracker, Trail of Lights, etc.). In keeping with the season, Doctuh Mistuh Productions will be offering a special Christmas present to the theatre audiences of Austin and our farewell production at SVT....

DEBBIE DOES DALLAS, THE MUSICAL!!!!!!!!!

Debbie Does Dallas is a modern morality tale disguised as the coming-of-age story of all-American small-town sweetheart Debbie Benton. Debbie is captain of her high-school cheerleading team, but she dreams of making it to the big time by becoming a Texas Cowgirl Cheerleader. Unfortunately, the only thing that stands between her and the realization of her dream is bus fare to the big city. Debbie enlists her teammates to try their hands at "little favors" performed with enthusiasm by "good girls." Will it be enough for Debbie to realize her dream and make it all the way to Dallas? (Adult subjects, NO nudity.)
Wikipedia:
Debbie Does Dallas: The Musical is an Off-Broadway musical with a book by Susan L. Schwartz, composed by Andrew Sherman, with Tom Kitt and Jonathan Callicutt providing additional music and lyrics. It is based on the 1978 pornographic film Debbie Does Dallas. The musical, like the movie, centers on high schooler Debbie and her friends' attempts to become Dallas Cowboys cheerleaders; however, the musical contains far less sexual content than the movie. Originally Off-Broadway Choreography by Jennifer Cody.
---
Debbie Does Dallas, the musical
by Susan L. Schwartz, Andrew Sherman, Tom Kitt, Jonathan Callicut
Doctuh Mistuh Productions
Wednesdays-Sundays,
December 16 - January 08, 2015
We are doing special theme nights throughout the run with discounted prices if you participate. There will also be a New Year's Party and so much more!!!!! I hope you will join us.
Tickets available at

DEBBIE DOES DALLAS PERFORMANCE SCHEDULE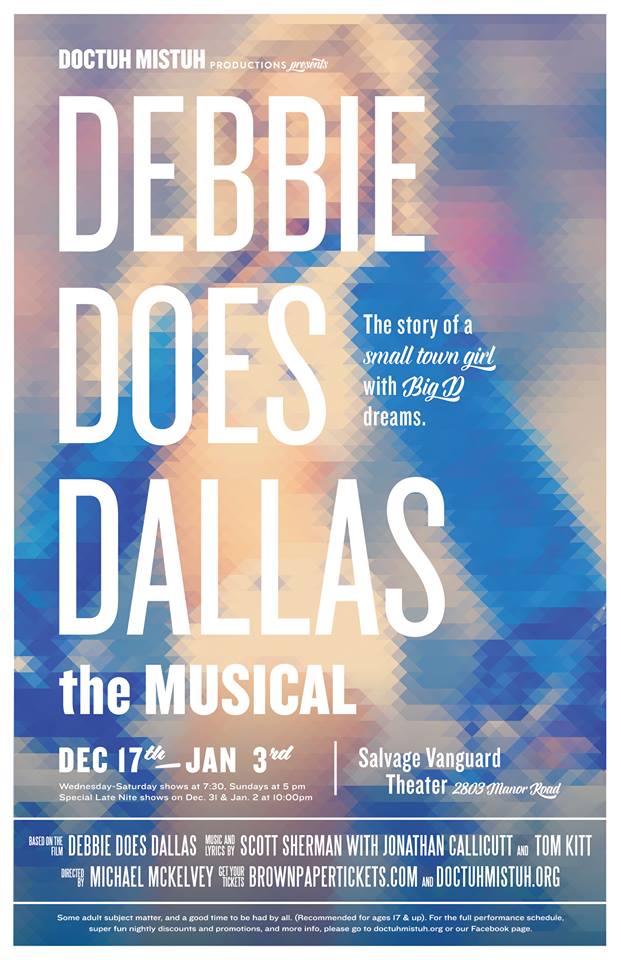 Wednesday, Dec. 16 @ 7:30pm Preview Performance
All seats $10**
Thursday, Dec. 17 @ 7:30pm KICK OFF NIGHT
Tickets purchased by Dec. 6 only $20**
Friday, Dec. 18 @ 7:30pm Cheerleader Night
Wear your cheerleader outfit and get in for $20.00*
Saturday, Dec. 19 @ 7:30pm Boogie Nights & After Party
Dress like a 70's porn actor and stay gain access to the "After Party"
Sunday, Dec. 20 @ 7:30pm Dallas Cowboy Appreciation Day
Wear your Dallas Cowboy Regalia and get in for $20.00*
Wednesday, Dec. 23 @ 7:30pm Industry Night
All ATX Theatre Folk get in for $15.00*
Saturday, Dec. 26 @ 7:30pm Tacky Christmas Sweater Nite
Wear your tacky Xmas sweater or other holiday apparel and get in for $20*
Sunday, Dec. 27 @ 7:30pm "Family" Day
Bring a "Family" of 5 or more and get in for $15.00 each*
Wednesday, Dec. 30 @ 7:30pm Industry Night #2
All ATX Theatre Folk get in for $15.00*
Thursday, Dec. 31 @ 7:30pm Special New Year's Early Show - Champagne Included
Thursday, Dec. 31 @ 10:00pm New Year's Late Nite Performance and New Year's Party
Ring in the New Year with us. Champagne and food included
in the price of admission.**
Saturday, January 2 @ 7:30pm
Saturday, January 2 @ 10:00pm
Sunday, January 3 @ 5:00pm
Performances added for Wednesday - Friday, January 6 - 8, 2016
* Purchase at the door
** Purchase on line at www.brownpapertickets.com with code: DEBBIE