Dec. 03 - Dec. 13, 2015
Thursdays-Sundays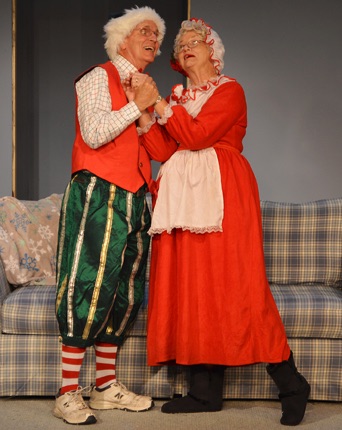 In the days leading up to Christmas, the guests at the Snowflake Inn go to extraordinary lengths to keep their Yuletide plans on track. This parade of nuttier-than-a-fruitcake lodgers arrives at the Hill Country Community Theatre on December 3, and deck the halls with holiday hilarity, in the play "
Dashing Through The Snow"
. From the playwright trio Jessie Jones, Nicholas Hope and Jamie Wooten, this comedy is more fun than a joyride in a one-horse open sleigh!
"This show is so much fun because it's like directing a sitcom," said director Wendy Ferrell. "There are so many different funny story lines. The insanity ensues from the very beginning and carries all the way to the end. While we are laughing through every one of the rehearsals, we are also working very hard to put on another great production."
The play takes place at the Snowflake Inn in Tinsel, Texas where it is Christmas 365 days a year. It is four days before Christmas, and Trina, the harried yet upbeat innkeeper of this B&B, has her hands full with a pair of feisty, feuding aunts, a troop of ham actors on a secret mission, a rendezvous between Mrs. Claus and an amorous elf, and a raucous visit with the Futrelles: Honey Raye, Twink, Frankie, Rhonda Lynn and their loveable sidekick, Raynerd.
Ocean Fillingim will serve as Stage Manager.
[secondary poster image from www.joneshopewooten.com]
---
Dashing Through the Snow
by Jones, Hope and Wooten
Hill Country Community Theatre (HCCT)
Thursdays-Sundays,
December 03 - December 13, 2015
"Dashing Through The Snow" will open on December 3 and run through December 13. Performances will be on Thursdays, Fridays, and Saturdays at 7:30 PM and Sunday matinees at 2:15 PM.
Reservations can be made by calling (830) 798-8944, online at www.thehcct.org, or at the box office (12:00 noon to 4:00 PM, Monday through Friday) beginning NOVEMBER 23 for HCCT members and NOVEMBER 25 for the general public.
Hill Country Community Theatre, 4003 W FM 2147, Cottonwood Shores, TX 78657.
Admission is $20 for adults and $10 for children and students with a valid ID.