Apr. 29 - Jun. 11, 2016
Wednesdays-Saturdays
For more than 50 years the classic Charlotte's Web has captured the imaginations and hearts of children and adults alike, selling 45 million copies and being translated into 23 languages. Charlotte's Web was a Newbery Honor Book, and together with Stuart Little, captured the Laura Ingalls Wilder Medal for author E.B. White. Tony and Drama-Desk-nominated playwright Joseph Robinette collaborated with White to develop a script from the novel; The Magik Theatre's staging of the play opens at 420 S. Alamo, at 6:00 p.m. on Friday, April 29, for a six-week run.
For opening night, Magik will kick off the show with a special celebration. Doors will open at 6:00 p.m. for activities including crafts and a visit from community partner Awesome Dads of SA, a webpage offering resources and activities for fathers and children. Opening-night audience members are invited to wear their county-fair-going outfits. Showtime will be 7:00 p.m.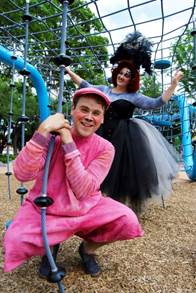 The cast includes Cody Asher as Wilbur, Ariel Rosen as Charlotte, Sean Salazar as Avery, Ashtyn Sonner as Fern, Devin Collins as Templeton, Jovi Lee as Goose, Dylan Collins as Homer/Sheep, Richard Solis as Gander/Uncle/Narrator, and David Ankrom as Arable/Lurvy. Director for Charlotte's Web is Richard Rosen; Greg Hinojosa is artistic coordinator.
The show will run through June 11. Tickets are $15 for adults or $12 for children (children under two free), with group rates also available. Reservations are required – for tickets or more information, go to The Magik Theatre's webpage, or call (210) 227-2751.
Awesome Dads of SA was founded in 2008 as a site offering resources for fathers to become closer to their children through activities, reading materials, and fellowship. Founder Gregory Berlanga says that as a single dad he found that there were plenty of sites for mothers but none for dads, so he decided to create that resource. For more information, go to www.awesomedadssa.com.
The Magik Theatre is San Antonio's professional family theatre. Founded in 1994, the theatre was created as a voice for young people and families throughout the region. Today, Magik stands proudly as San Antonio's only professional resident repertory theatre company, and has presented more than 160 main-stage and touring shows to over 2 million children and their families. The Magik Theatre, a 501(c)(3) non-profit, brings the world of creativity, learning and amazement to its audiences, and enhances the lives of children with disabilities and at-risk youth through its community education and outreach programs. For more information, visit magiktheatre.org.
---
Charlotte's Web
by E.B. White, adapted by Joseph Robinette
Magik Theatre
Wednesdays-Saturdays,
April 29 - June 11, 2016
420 South Alamo Street, San Antonio, Texas, 78205
Tickets:
Adults: $15
Children: $12
Senior/Military discounts available.
Our Website: www.magiktheatre.org
Contact/More Information: For more information visit www.magiktheatre.org or call 210-227-2751.