May. 21 - May. 24, 2014

A rowdy musical comedy about how Borger, Texas became the most lawless town in America In the 1920s, wildcat oil strikes, sudden wealth and the 18th Amendment gave rise to folk heroes, villains, and lawless new townships. The most notorious of these unruly cities was the panhandle town of Borger, Texas–which director John Cecil uses as the setting for his newest musical comedy, Boomtown. Inspired by the Thomas Hart Benton painting of the same title and based on memoirs and documents from the period, Boomtown is the third and final installment of Crank Collective's Texas Musical Series.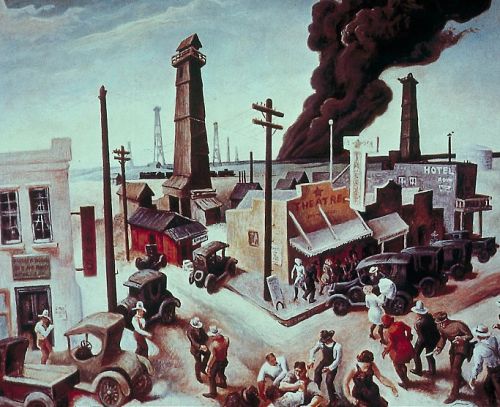 Boomtown follows the life of land promoter Asa "Ace" Borger, who seizes an opportunity to capitalize on oil strikes in the Texas Panhandle. Making a million dollars in a single day selling land, lumber, and political offices, Borger saw the population of his town boom at a staggering rate. With the notorious "Two-Gun" Dick Herwig installed as sheriff, the small city became overrun with dancehalls, bootleg liquor joints, gambling and armed robbery. The city was ultimately pacified with martial law, the Texas Rangers and the National Guard. As the final part of the Texas History Musical series, Boomtown is an hour-long musical comedy with a live band. The latest production follows Crank Collective's Alamo Aftermath and Cabeza de Vaca, where letters, memoirs and photographs are used to create a true-to-life historical musical theatre experience.
---
May 21 - May 24, 2014
Rollins Theatre
Long Center
701 Riverside at South First,
Austin, TX, 78704
Wednesday - Saturday at 8 p.m.
Tickets $14 and $20 available via Long Center Boxoffice
Special prices available for Seniors and children (12 and under)
Questions? Call the 3M Box Office at (512) 474-LONG (5664), TTY (800) 735-2989.