Blame It on Valentine, Texas
by Jaston Williams
Aug. 27 - Aug. 28, 2016
Saturday-Sunday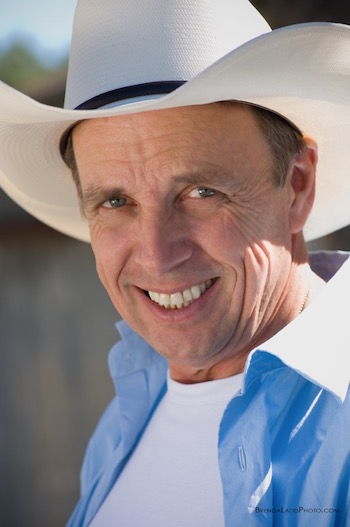 The Fredericksburg Theater Company (FTC) is thrilled to welcome Greater Tuna co-star and creator Jaston Williams for a special limited engagement. Mr. Williams will perform his celebrated one-man comedy Blame It On Valentine, Texas for two shows only at the Steve W. Shepherd Theater. The performances are part of FTC's Special Event Series, which is best described as a mixture of live music, guest artists and classic cinema that runs in addition to their 20th anniversary main stage season.
"Jaston is a Texas legend and to have him perform on our stage is a true honor", said FTC's Executive Director Steve Reily. "He has performed on Broadway, at the White House and all over the world. Audiences that attend this production will be treated to a first-class evening of entertainment presented by Texas' premiere storyteller."
Blame It On Valentine, Texas is a collection of autobiographical vignettes. Williams weaves together six well-crafted stories, including tales of childhood misadventures and the adoption of his son. The result is a mad, comic adventure told by a masterful storyteller that begins in the small, surreal town of Valentine, Texas.
Jaston Williams is co-author, co-star and producer of Greater Tuna and its four subsequent sequels. Mr. Williams has been creating the citizens of Tuna since 1982. The performances have played on and off Broadway at the Kennedy Center, the Edinburgh International Arts Festival, the Spoleto Festival U.S.A. and all over America. He has received Washington DC's Helen Hayes Award nominations for A Tuna Christmas and Red, White and Tuna as well as the San Francisco Bay Area Critics Award for Greater Tuna. Mr. Williams received the L.A. Dramalogue Award for both Greater Tuna and A Tuna Christmas. A Tuna Christmas was published in "Best Plays of 1995."
For several years, Mr. Williams toured in Larry Shue's The Foreigner, for which he received a Helen Hayes Award nomination for Best Actor. He performed in The Fantasticks at Washington DC's Ford's Theatre and directed the musical Bad Girls Upset By The Truth at Atlanta's Alliance Theatre. Mr. Williams received the Texas Governors Award for Outstanding Contribution to the Arts by a Native Texan and has performed at the White House on three occasions. In his hometown of Austin, Texas, Mr. Williams has appeared at the State Theatre in Eugene Ionesco's The Chairs and at Zachary Scott Theatre in Jay Presson Allen's Tru, for which he received the Austin Critics Table Award for Best Actor in a drama. He most recently appeared at Zachary Scott Theatre in The Laramie Project and Our Town. His play, Romeo and Thorazine, work-shopped at Zachary Scott Theatre in November 2001. He work-shopped his autobiographical one-man show I'm Not Lying to critical acclaim at Austin's State Theatre of Texas and returned it there for a full production in February of 2004 as well as a benefit performance at Washington DC's Kennedy Center. His autobiographical play Cowboy Noises premiered in Austin in February 2008 to critical acclaim.
About the Fredericksburg Theater Company: The mission of the Fredericksburg Theater Company (FTC) is "to provide superior theatrical programs for regional participation which entertain, educate, enrich and inspire." Formed in 1997 by Jeryl Hoover, the theater has grown to an audience of over 8,000 annually. All performances are held at the Steve W. Shepherd Theater. FTC is a 501(c)3 non-profit organization. It has received statewide recognition from the Texas Nonprofit Theatres as well as grants from various arts endowment organizations.
---
Blame It on Valentine, Texas
by Jaston Williams
Jaston Williams
Saturday-Sunday,
August 27 - August 28, 2016
Performances for Blame It On Valentine, Texas will be Saturday, August 27 at 7:30 p.m., and Sunday, August 28, at 2:00 p.m. Admission is $29 for adults, $12 for children 17 and under. Seating per show is limited to 250 persons. Tickets are on sale to the public now. Tickets can be purchased online at www.fredericksburgtheater.org. Reservations can also be made at the box office, 830-997-3588. An answering machine will capture requests after hours. For more information or directions, visit www.fredericksburgtheater.org.