Nov. 11 - Nov. 19, 2016
Wednesdays-Sundays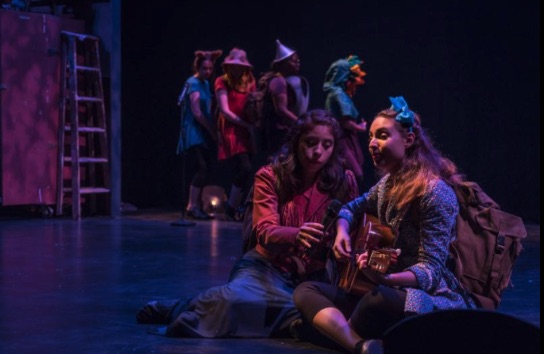 Two theatres share the same stage. One audience faces the void of another. One contains you, a real live audience infused with your own inner and outer worlds; the other is pure illusion-a void lit up by footlights. A group of actors performs simultaneously between the two sets of footlights. Plays, dances, songs, stand-up, and slam poetry come and go along with characters, costumes, and worlds as if in a dream.
The actors carry the weight of the roles that they have played and the roles to come as their performances teeter somewhere between theatre and dance, spoken word and song. The nine actors ask the audience to consider: What do you carry? What are you between? What are your worlds?
Between Worlds is a performance work about theatre and its singular ability to transform. The performance travels liminal spaces between here, Oz, and to places never seen before.
Yesenia Caballero
Natalie Curran
Holly Gabelmann
Briahn Hawkins
Kate Jones-Waddell
Kerry Madden
Julia Palmer
Cristina Trevino
Leah Woehr
Check out our interviews with the cast!
Our Production Stage Manager,
Mindy Tran
, created this wonderful video series to introduce us to the women of
Between Worlds.
Video - interviews with the cast
---
Between Worlds - A Devised Piece
by Trinity University student ensemble under the direction of Rachel Joseph
Trinity University
Wednesdays-Sundays,
November 11 - November 19, 2016