May. 06 - May. 21, 2022
Fridays-Saturdays

One summer morning residents at a retirement complex wave at cars to see if they can get a wave back. This harmless activity takes an unexpected turn when a police officer and a quirky stranger suddenly appear. The residents must now face the past and its impact on the present. Secrets are revealed as they navigate a hilarious maze of resentment, guilt and missed opportunity. Can lost love be rediscovered? Will long-held friendships be sustained? The Back-Porch Gang is a comic take on relationships senior citizens have with family, friends and lovers. It examines the need seniors have to be seen and acknowledged, coupled with a desire to lead a fulfilling life.
A heartwarming comedy written by Ben Scranton and directed by Jade Esteban Estrada.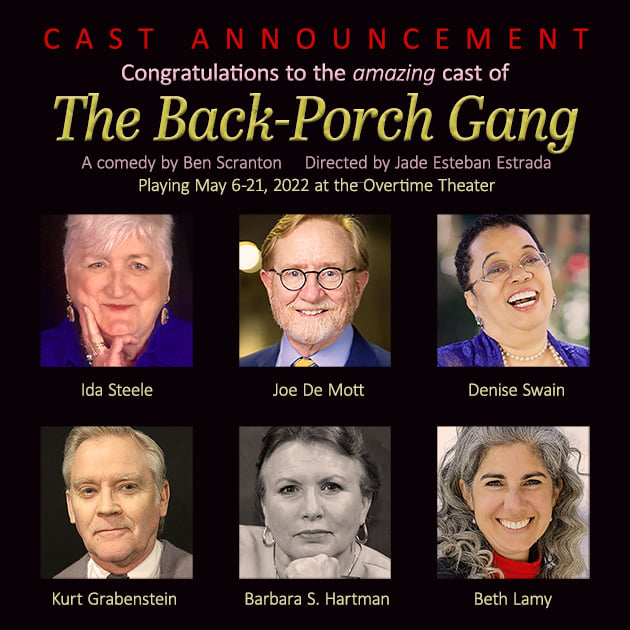 The Back-Porch Gang
Written by Ben Scranton
Directed by Jade Esteban Estrada
Wilma - Ida Steele
Wayne - Joe De Mott
Myrtle - Denise Swain
Bess - Barbara S. Hartman
Lester - Kurt Grabenstein
Officer Todd - Beth Lamy
---
The Back-Porch Gang
by Ben Scranton
Overtime Theater
Fridays-Saturdays,
May 06 - May 21, 2022
Production dates are 8 p.m. Fridays and Saturdays May 6-21, 2022.