Apr. 11 - Apr. 16
Tuesday-Sunday
Gloria is a dark, twisted comedy following a group of young editorial assistants for a New York magazine. The play follows these ambitious journalists as they navigate the cut-throat media industry. That is until a satirically mundane day in the office takes a disturbing turn for the worse.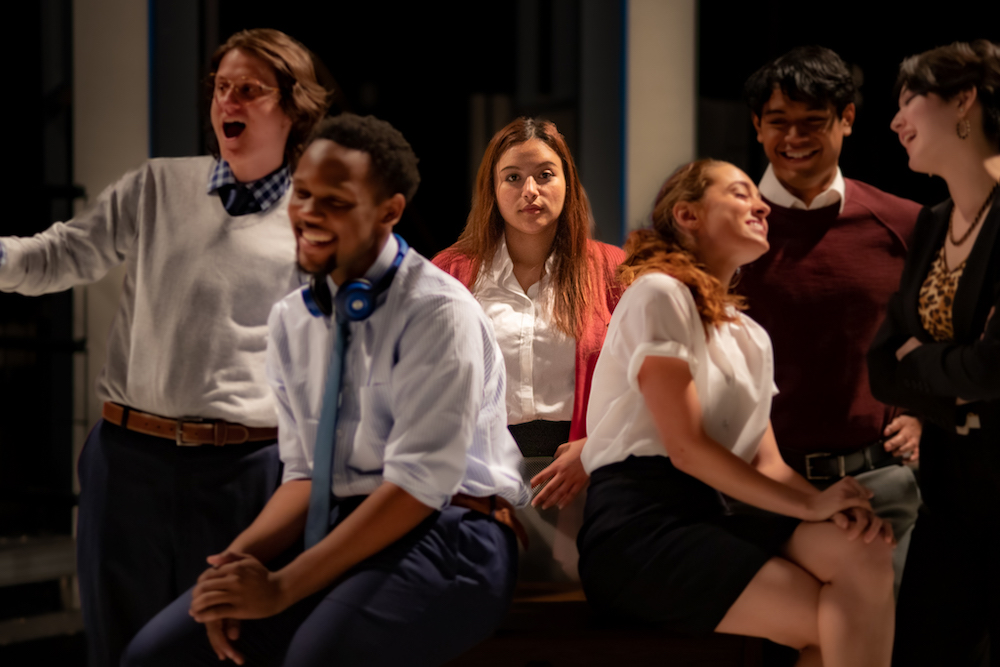 GLORIA is a dramatic comedy written by playwright Branden Jacobs-Jenkins focusing on the lives of working Americans and dynamics in the workplace. The play made its debut Off-Broadway at the Vineyard Theatre in May 2015, after being developed by the same theatre.
Directed by Jess Hawthorne Fiene
Cast
Gloria/Nan………………………………………Yasha Alaniz
Ani/Sasha/Callie……………………………… Liz Catchings
Dean/Devin……………………………………… Parker Dial
Lorin…………………………………………………Josh Kok
Kendra/Jenna…………………………… Chloe Meinershagen
Miles/Shawn/Rashaad……………………….…….Eric Shawn
Content Warning:
This production contains adult themes including strong language, gun violence, PTSD, intimacy, and death.
Poster & Photography by Lauren Jurgemeyer
---
Gloria
by Branden Jacobs-Jenkins
Texas State University
Tuesday-Sunday,
April 11 - April 16, 2022
APRIL 11 - 15, 2022
MONDAY, APRIL 11 at 7:30 PM
TUESDAY, APRIL 12 at 7:30 PM
WEDNESDAY, APRIL 13 at 7:30 PM
THURSDAY, APRIL 14 at 7:30 PM
FRIDAY, APRIL 15 at 7:30 PM
SATURDAY, APRIL 16 at 2:00 PM with a talkback following the performance
Mainstage Theatre
Theatre Center is 430 Moon Street, San Marcos, Texas 78666
The chamber is GENERAL SEATING (first come / first seats)
Adults: $20
Child / Sr.: $15
TXST Student: $10
Group (10+): $13
Prices include processing fee.
_____________________________________
Parking will be directed to the Edward Gary Parking Garage (401 Edward Gary Dr) behind the Performing Arts Center. Discounted parking passes can be purchased for $8.00 online with your order, or purchased at the box office window on the night of the event. At the end of the night, you will be able to bypass the line at the payment kiosk, go directly to your vehicle, and utilize the discounted parking pass at the gate as you exit.
If accommodations need to be made, please, contact the box office at least 48 hours before the performance date.
Contact: Texas State Presents | 512-245-6500