Mar. 25 - Apr. 16, 2022
Fridays-Saturdays
An Overtime Double Feature written by Michael Burger Song. Two back-to-back stories where discovering what lies below can lead to salvation or tragedy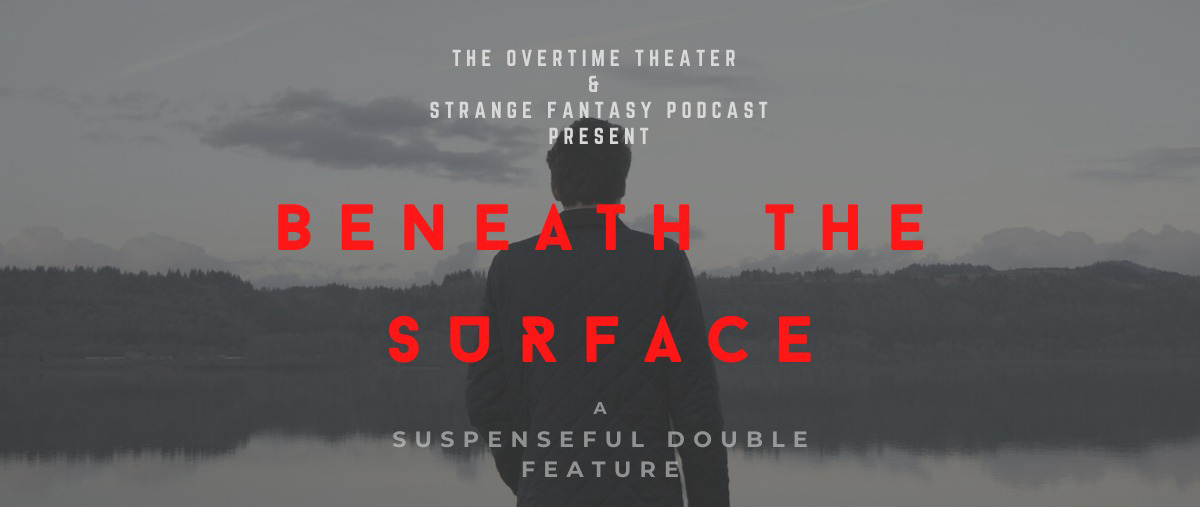 Can you trust the world around you? The Overtime Theater proudly presents the suspenseful thriller Beneath the Surface, a three-story anthology that explores themes of isolation, confinement, and belief in the world around us.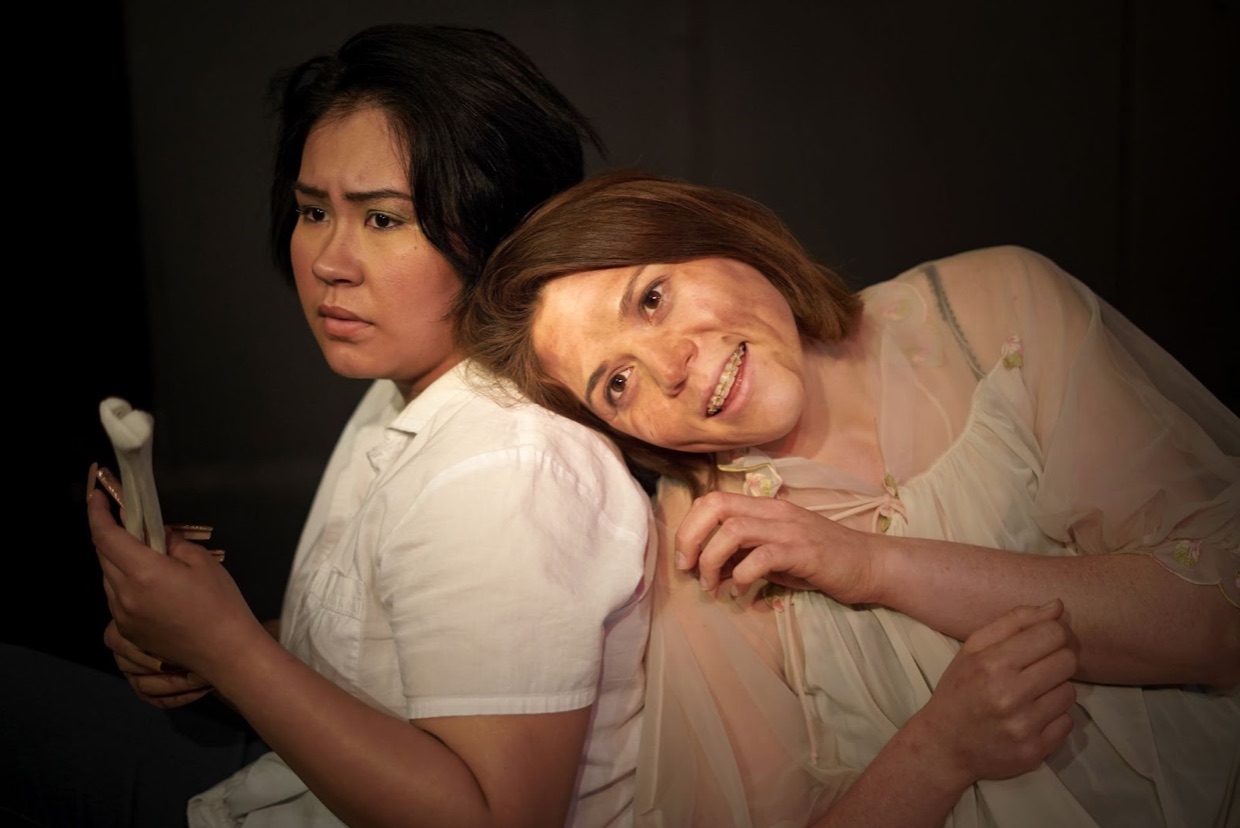 In the intimate setting of the Overtime Theater, the peril of the protagonists is palpable, and their fear almost permeating and infectious. From abductions to apocalyptic conjurings, each victim endeavors to explore their grisy circumstances. Each in turn is forced to explore deep within themselves if they are to have any hope of survival. As each story unfolds, the audience is invited along the journey to conjecture, deduce, and ultimately discover what lies…beneath the surface.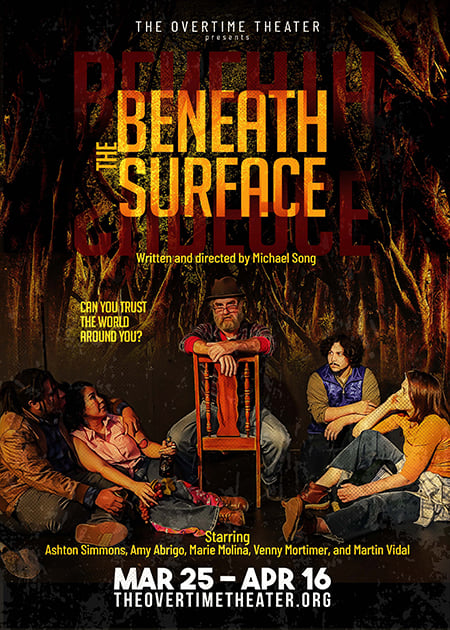 The evening opens with "Specimen," a dystopian play that deals with isolation. The second piece, which explores the theme of confinement, is titled "Belly of the Beast." The final offering is "Cabin in the Woods," which asks the question: Can you trust the world around you?
The play stars Amy Abrigo, Ashton Simmons, Martin Vidal, Venny Mortimer, and Marie Molina.
Assistant directors are Bree Hendrick and Kristian Chen. Costumes by Bree Hendrick.
Song, who has written such plays as "Beasts of Baverly Grove," Rift Riders," and "Life, Or A Reasonable Approximation Thereof," has just finished a successful five-week run of "The Scriptless Sleuths," a fully improvised murder mystery.
With "Beneath the Surface," audiences can expect a completely different experience.
"I love horror," Song said, regarding his inspiration for the plays. "When we are watching horror, it's always a very visceral experience. It's hard not to empathize with the character's fear and feel what they are going through. I also love shows that subvert audience expectations, when it's done in a respectful way. The story shouldn't take a sharp left-hand turn without there being road signs along the way. But that doesn't mean the signs have to be obvious."
Song believes that the best three words to describe his new show would be tense, mysterious, and ominous.
"For Specimen, I wanted something that pushed us through the stages of grief at a rapid pace," he said. "For "Belly of the Beast," I've always loved the 'two people trapped in an elevator' that a lot of sitcoms of the 90s would eventually do. For "Cabin in the Woods," well, I can't really say without giving things away…"
"I've been sitting in on rehearsals and Michael Song's plays have had me at the edge of my seat," said Artistic Director Jade Esteban Estrada. "Michael has been writing for many years so he knows how to create suspense by placing doubt and fear in just the right places. The actors are very much in sync with his vision. We are excited to present Michael's latest work."
---
Beneath the Surface
by Michael Burger Song
Overtime Theater
Fridays-Saturdays,
March 25 - April 16, 2022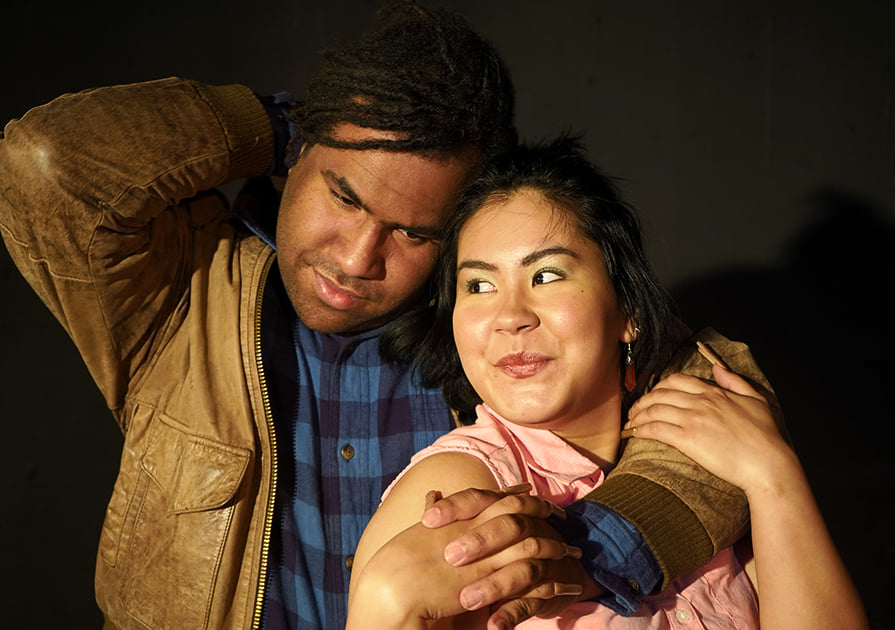 March 25-April 16, 2022
Fridays and Saturdays at 8 p.m.
Sunday, April 10, at 7 p.m.
Presented at:
The Overtime Theater
In the Gregg Barrios Theater
5409 Bandera Rd, Ste 205
San Antonio, Texas 78238
(210) 577-7562
theovertimetheater.org | theovertimetheater@gmail.com
Tickets are $18.00 general admission or $12 for SATCO members, military and students with a valid ID.
Tickets are available at the door or online at ShowTix4u.com.
No refunds. Exchange only for another show date.
Limited seating. Face masks strongly recommended.