Sep. 11 - Sep. 27, 2020
Fridays-Sundays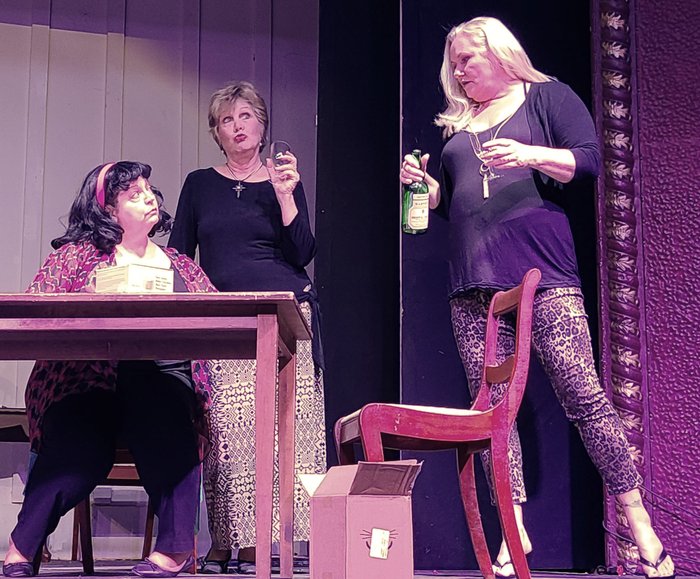 When the biggest highlight in your life for the past 30 years has been your weekly bridge night out with the "girls," what do you do when one of your foursome inconveniently dies? If you're Connie, Leona and Millie, three southern ladies from Birmingham, you do the most daring thing you've ever done. You "borrow" the ashes from the funeral home for one last card game, and the wildest, most exciting night of your lives involves a police raid, a stripper and a whole new way of looking at all the fun you can have when you're truly living.
---
Exit Laughing
by Paul Elliot
Bastrop Opera House
Fridays-Sundays,
September 11 - September 27, 2020
EXIT Laughing show dates:
Live Theatre Performances:
Sep. 11, 12, 18, 19, 25, 26, 2020 at 7:30 pm
Sept 27 at 2:30 pm
Live Streaming Performances:
Sep. 12, 19, 26, 2020 at 7:30 pm
Click HERE to Reserve and purchase tickets for live performances ($15 plus service fees) or purchase tickets for streaming performances (single ticket $12, family ticket $24)
Keeping our audience members, actors, staff and volunteers safe is very important to us. Here is what you can expect from us as we follow and adhere to Covid-19
safety guidelines.
All staff, volunteers and patrons are required to wear mask upon entering the Opera House and must leave mask on while in the theatre.
​Hand sanitizer will be available to patrons upon entering the theatre.
​All staff, volunteers and actors will have their temperature checked upon arrival at the Opera House.​
Seating will begin 30 minutes before the show in order to keep foyer from becoming crowed.
Social distancing is required in the foyer. ​Restrooms will be monitored. In order to adhere to social distancing, only two people at a time will be able to enter restrooms.
Seats will be limited and reserved in order to space our seats according to safety guidelines. No tickets will be sold at the door.​
Before each performance, our entire building is sanitized both by thoroughly cleaning by hand with disinfectant as well as being sprayed with hospital grade disinfectant using a commercial aerosol fogger. Each individual seat is also sprayed. ​
Concessions will be limited.
Hope to see you soon!