Twelfth Night, or What You Will
by Overtime Theater
Feb. 14 - Mar. 07, 2020
Fridays-Sundays
Anytime you hear "Shakespeare comedy" you're guaranteed at least one marriage and quite likely a case of mistaken identity. Twelfth Night is no exception, featuring twins, separated and feared dead by each other after a shipwreck. The sister takes on a male persona to survive, thus allowing for the mistaken identity, and comedic antics ensue.
This production is contemporary and metatheatrical so the focus can remain, as in Shakespeare's own time, on the performances, the music, the characters, the humor, and especially the language, all of which is his.
Interview of Emily Fitzgerald by Kurt Gardner, ArtScene SA, February 7, 2020
Director Emily Fitzgerald is most often found directing her original works, the most recent of which were And Then There Were Some, a multiple-ending play, and the modern fairy tale No Rescue Required. Next up she will be half of a writing team with William M. Razavi for their sci-fi double feature, Evil Scientists Love a Parade, and return to solo writing/directing for the fall's sequel to her ATAC award-winning play Creatures of the Night. This is her second time to direct Twelfth Night and she can attest it is a whole new adventure each re-visit.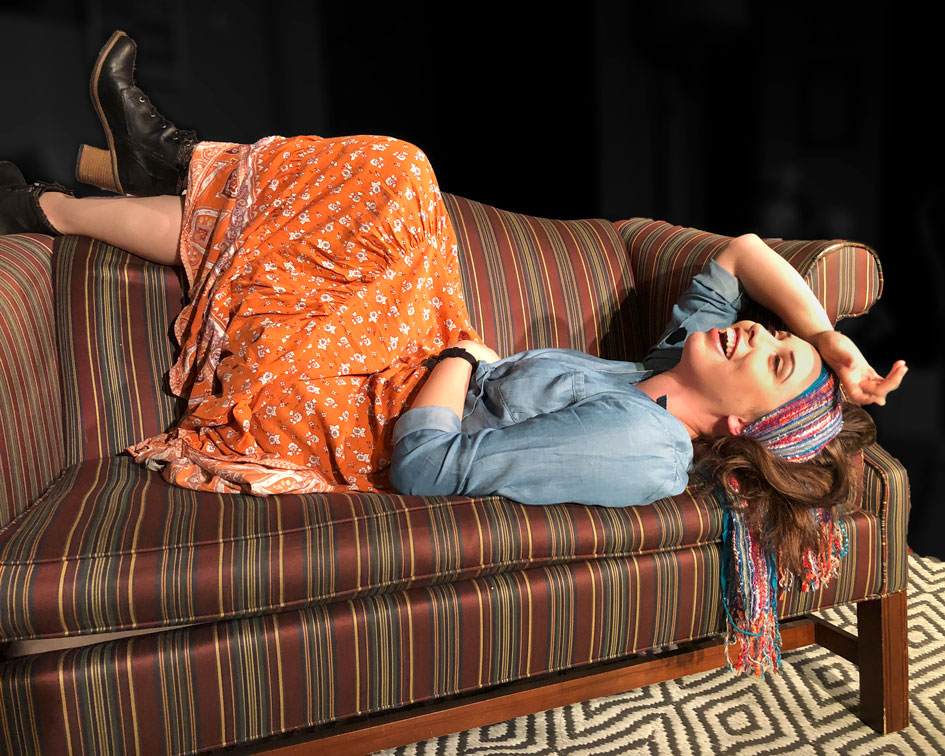 Adapted and Directed by Emily Fitzgerald
Cast:
Deborah Basham-Burns: Maria
Lacey Dalby: Valentine
Sarah Davis: Lady Andrea Aguecheek
Renae De Hoyos: Lady Olivia
Ashley Hamilton: Viola
Elise Hernandez: Antonia
Gabriel Maldonado: Duke Orsino
Andrew Olmos: Malvolio
Jay Overton: Sir Toby Belch
Matthew Roberts: Sebastian
Meaghan Setterbo: Feste
Ray Zurcher: Sea Captain/Officer/Priest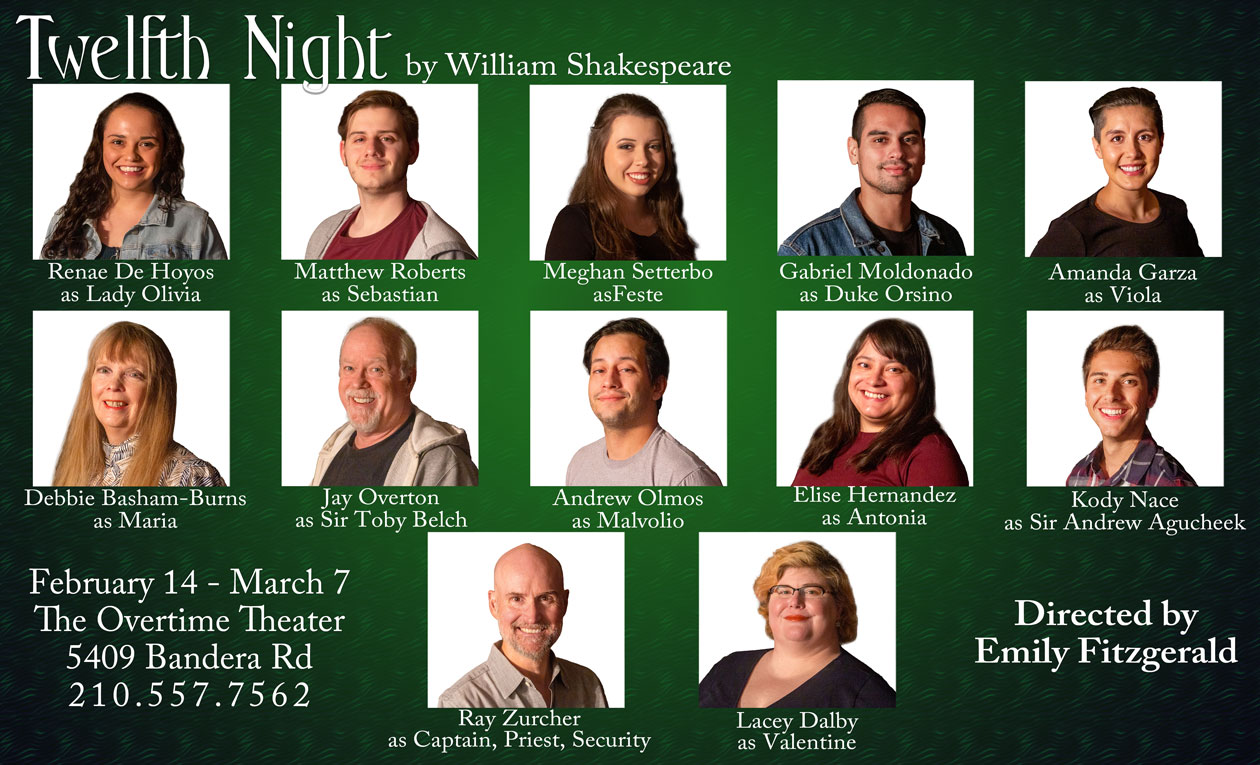 ---
Twelfth Night, or What You Will
by William Shakespeare
Overtime Theater
Fridays-Sundays,
February 14 - March 07, 2020
February 14 – March 7, 2020
February 14, 15, 21, 22, 28, 29, March 6, 7 at 8:00 pm
February 23 at 3:00 pm; March 1 at 7:00 pm
Venue: The Overtime Theater's Gregg Barrios Theater
5409 Bandera Rd, San Antonio, TX 78238
Tickets: $15.00 with discounts for seniors, students, teachers, military, and SATCO members. Reservations are available through the theater at theovertimetheater@gmail.com, 210.577.7562, or on Brown Paper Tickets at: https://www.brownpapertickets.com/event/4261075