Nov. 15 - Nov. 16, 2019
Friday-Saturday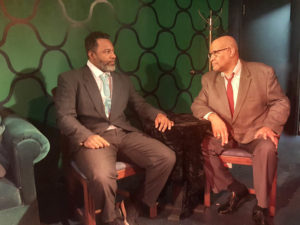 The Overtime Theater is proud to present an encore presentation of The Meeting, written by Jeff Stetson and presented with special consideration from Dramatist Play Services. The play will run November 15-16, 2019 at 8:00pm. The Overtime Theater located at 5409 Bandera Road, Suite 205 in San Antonio, Texas. Seating is limited for this show, so reservations are recommended. Reservations can be made by sending an email to
theovertimetheater@gmail.com
. Visit
theovertimetheater.org
for more information.
This eloquent production depicts an imaginary meeting of two of the most important men of the twentieth century: Malcolm X and Dr. Martin Luther King, Jr. Differing in their philosophies, but alike in their mutual respect, the two men debate their varying approaches to the same grave social problems, both prepared to die for their beliefs but neither aware of how soon their assassins' bullets would find them.
Despite their intense involvement in the Civil Rights Movement, the real Malcolm X and Dr. King only met once—on March 26, 1964, during the United States Senate's debate on the Civil Rights Act in Washington, DC. The actual meeting was nothing more than a photo opportunity, and these highly influential philosophers and activists would never have a chance to debate their vastly different approaches to creating social change in the United States.
Director Torence B. White was inspired by an episode of the 1980's sitcom A Different World, where the students of Hillman College were assigned to create a scene where Malcolm X and Dr. King were allowed time to talk. White began researching the possibility of such a conversation, and found this play. White says, "After reading the script, I just felt like it's a great story that needs to be shared with everyone at such a time as when there still seems to be so much division."
The play itself is about the Civil Rights Movement, and focuses on two of the most influential leaders of the African-American community. But White hopes to appeal to a wide audience with this piece. "I don't want people thinking it is a show that calls for only an African-American audience. This is a show that I believe everybody can relate to no matter their race, gender, or religion."
Another important facet of this show for White is the mutual respect between Malcolm X and Dr. King. "Even though their views were different, they respected each other and were able to come together in unity to try and find a solution to black equality. It's something a lot of people can learn from not just from a race standpoint, but even in religion, sex, or political viewpoints. I may not agree with your viewpoints, but I am willing to listen and try to understand where you're coming from. But we're still a long way from that as Malcolm X and Dr. King were in their time."
Carl E. Brooks and Ronnie Whyman Alexander are relative newcomers to the San Antonio stage, but both gentlemen share Mr. White's passion for this piece. Brooks jumped at the chance to play Malcolm X because he gravitates to roles that shout messages either through spoken word or example. Alexander grabbed the opportunity to portray Dr. King because his philosophy on life was born out of the same roots as Dr. King's: Love.
Cast:
Malcolm X: Carl E. Brooks
Dr. Martin Luther King, Jr: Ronnie Whyman Alexander
Rashad: Torence B. White
---
The Meeting
by Jeff Stetson
Overtime Theater
Friday-Saturday,
November 15 - November 16, 2019