Nov. 01 - Nov. 23, 2019
Fridays-Sundays

It's Christmas Eve, and Mr. Broadbent, the builder, has invited prospective buyers, Fred and Gladys McNicoll, to spend the holidays in "THE HOUSE OF THE FUTURE", in the hopes that the "spirit of the season" will close the deal. He has pulled out all the stops. The house is decorated for the holidays, he's hired a personal chef, Sue Johnson, to prepare a gourmet dinner, and he has even bribed two members of his staff, Casey Cody and Ben Adams, to pose as a married couple, who are renting the house, so they can extol its virtues and explain how everything works.
HOWEVER…that's the problem, nothing does. So, he's hired his maintenance man, Eddie Cott, to be on hand behind the scenes, to make running repairs as necessary. Off course the buyers must not know he is there… but, upon discovery, he ends up masquerading as Nanny Turcotte. Then a stranded traveler, Mr. Brooks, who happens to be Casey's future father-in-law, shows up and forces Ben to pretend that the cook is his wife. He also falls in love with Nanny! So Ben ends up with 2 pretend wives and Mr. Brooks in hot pursuit of Nanny! And, somehow, people keep losing clothes to the automatic vacuum/trash collector! Can they really sell the house in this predicament?
directed by Bill Craig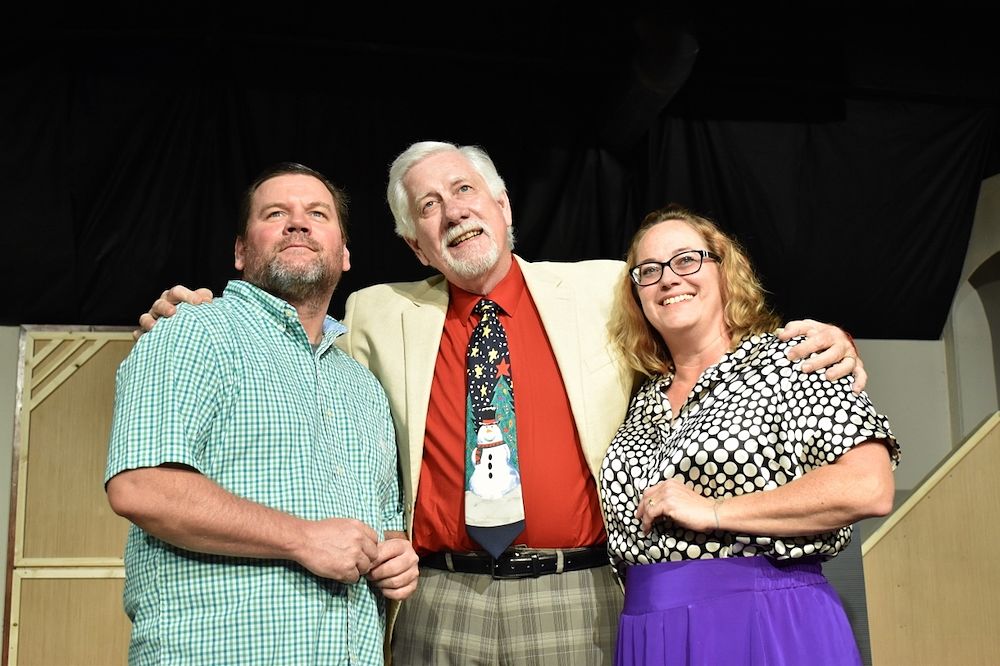 The Cast Includes: The Crew includes:
| | | | |
| --- | --- | --- | --- |
| Mr. Cott | Glenn Aichlmyr | Director | Bill Craig |
| Ben Adams | Greg Holmes | Asst Director | Sarah Jackson |
| Casey Cody | Jennifer Gonzalez | Stage Manager | Sarah Jackson |
| Sue Johnson | Summer Stimson | Stage Crew | Shawn Walsh |
| Gladys McNichol | Barb Jernigan | Lights | Beth Watkin |
| Fred McNichol | Russ Jernigan | Sound | Bill Craig |
| Mr. Broadbent | John Milford | | |
| Walter Brooks | John Milford | | |
---
No Sex Please, It's Christmas!
by Bill Parker
Way Off Broadway Community Players
Fridays-Sundays,
November 01 - November 23, 2019
Evening Performances at 8 pm:
November 1, 2, 2019
November 8, 9
November 15, 16
November 22, 23
Sunday Matinee at 3 pm: November 10
Make Reservation
If you prefer, you may email your reservation request to reservations@wobcp.org,or call our un-manned telephone number, 512-259-5878 and leave a clear, concise message with your name, call-back number, show date, type (Adult, Child, Discount) and number of reservations.
Tickets are $20 for adults, $15 for students (with ID), seniors (60 Plus), Military & First Responders (with ID), and $10 for children (10 and younger). Advance tickets are available at Eventbrite.com or through a link on the Facebook page or at the door. We are located at 11880 Hero Way West, Bldg 4, Leander, TX 78641 (behind Smokey Mo's).
Check out our Facebook page at www.facebook.com/WOBCP/