Sep. 20 - Sep. 29, 2019
Fridays-Sundays
Over the Lege, the number one — and some might say only — political satire show focused solely on the Texas Legislature returns to the Rollins Theater at the Long Center for two weekends with Over The Lege Part 4: The House Awakens.
In a time when we all need a reprieve from watching the news, what better way to learn about the inner workings of the Texas legislature than hrough song, dance, and sketch comedy? It's true, we have found a way to make voter suppression entertaining with our opener, "So You Think You Can Vote?"
Want to know what is on that secret recording between Michael Quinn Sullivan and Speaker Dennis Bonnen, well then do we have a sketch for you!
Those of you who love break-out characters Ma and Pa, our very own Texas Gothics, will enjoy their latest irreverent commentary. "That's right, Ma."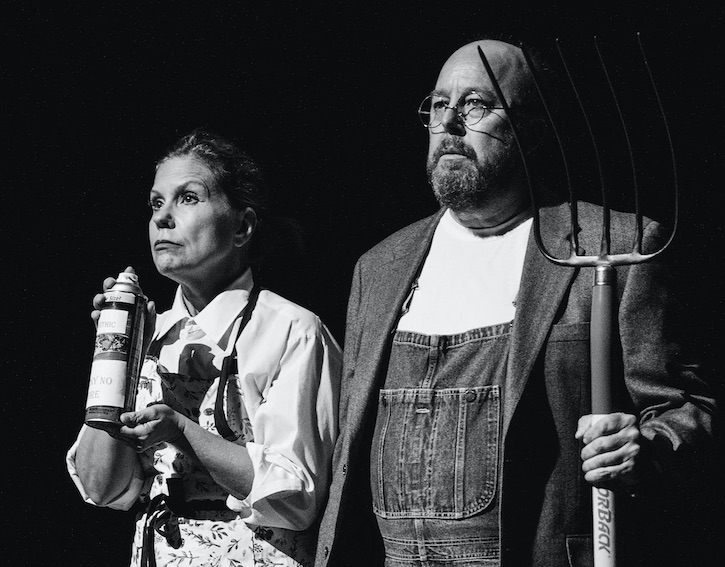 Created and hosted by long-term Texas legislative staffer Stephanie Chiarello, Over the Lege brings together political insiders, improv actors, and comedy writers to expose the shenanigans of the Texas Legislature. Comedic legend Tom Booker directs; Denise Hudson provides musical accompaniment; Janet Maykus and Amy Lowrey lead an incredible cast of comedians.
Over the Lege is presented in two acts. In the first, you'll say "wait, is that really true?" while guffawing at the policies and actions from our legislature (yes, they passed a law letting you hunt feral hogs from a hot air balloon). In the second, host, Stephanie Chiarello interviews a real Texas political celebrity, and then welcomes a panel of "colleagues"--aka improvisers--to further shed light on the operations of the Texas Legislature.
"It is my public service," says creator Stephanie Chiarello. "It is my yard sign, my blockwalk, and my thirty-second TV ad, a way of shining a light on civic participation in Texas and thereby inspiring more Texans to get involved. I think it's working."
Over the Lege is a sponsored project of the Austin Creative Alliance.
---
Over The Lege
by Stephanie Chiarello
Over the Lege
Fridays-Sundays,
September 20 - September 29, 2019
Rollins Theatre
Long Center
701 Riverside at South First,
Austin, TX, 78704
Running September 20-29th, 2019, the award-winning show brings its high-energy humor to the Rollins Theater at the Long Center for six exclusive shows.
Show times are 8:00 p.m. on Friday and Saturday nights, and 2:00 p.m. on Sunday afternoons.
Guests include:
Friday September 20 - Representative Celia Israel
Saturday September 21 - Senator Kirk Watson
Sunday, September 22 - TBA
Friday, September 27 - Representative Sarah Davis
Saturday, September 28 - Speaker Pro-Tem Joe Moody
Sunday, September 29 - TBA
General admission tickets are $24.50 including service fee and may be purchased online through the Long Center box office HERE -
Seating is general admission.
Student tickets are available for this performance.
All patrons, regardless of age, require a ticket to attend the performance.
Questions? Call the 3M Box Office at (512) 474-LONG (5664), TTY (800) 735-2989.