Sep. 13 - Oct. 05, 2019
Fridays-Sundays
Enid Dobbs' life is in danger. This owner of the shoddy Briar Rose Theater turns to local fixer DD McGee, who in turn recruits help including private detectives Dandy and Valentine. Trapped with hapless actors in the theater's green room, they attempt battle against an unseen assailant who is able to kill off whomever he wants, in various creative ways, one victim at a time. And who makes it out alive is up to you. Two audience votes are taken during the course of the play, but the ending is one you'll never see coming.
The Overtime Theater announces And Then There Were Some, an interactive murder mystery.
Written and Directed by Emily Fitzgerald
Featuring: Deborah Basham-Burns (Enid Dobbs), Lacey Dalby (Rowan Goody), Justin Keown (Mike Dandy), John Lambert (DD McGee), Myles Martinez (The Great Antonio Valencia), Kat McKenna (Annabelle Valentine), Jay Overton (Snap Champlin), and Meaghan Setterbo (Delilah Small).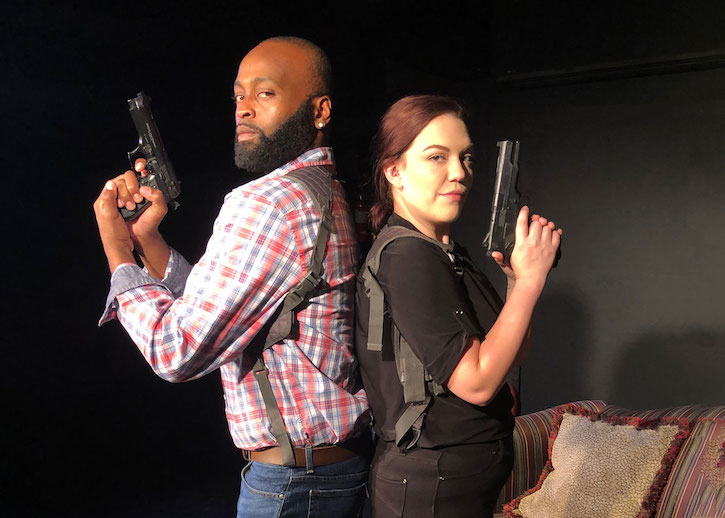 Emily Fitzgerald is a graduate of Trinity University (BA 1995), The University of Wisconsin-Madison (MA 2000), and St. Mary's University School of Law (JD 2003). Discovering lawyering to be an unsatisfying profession, she turned to teaching Drama and English at the high school level and eventually theater arts courses at several local colleges. And Then There Were Some is her fifth original play to also direct, and her twenty-third full-length directorial project, among dozens of smaller productions. Her play Creatures of the Night garnered an Original Script ATAC award; Ties That Bind moved to the semi-finals of the Austin Film Festival's playwrighting competition; and Someone Got Shocked was accepted into the Midtown International Theater Festival.
This play was a unique challenge to write due to the audience-voting aspects requiring multiple versions of sections of the play, and the resurrection of characters from previous plays she wrote, directed, or both. An avid mystery reader, this script brought together several of her favorite mystery types: a locked-room; choices for the audience (an approach she first saw as a high-schooler at The Kennedy Center, in Washington D.C.); and echoes of Agatha Christie's masterpiece of suspense, And Then There Were None, which is clearly where this play got its name.
---
And Then There Were Some
by Emily Fitzgerald
Overtime Theater
Fridays-Sundays,
September 13 - October 05, 2019
September 13 - October 5, 2019 at the Overtime Theatre
Sept. 13, 14, 20, 21, 27, 28, Oct. 4, 5 at 8:00 pm;
Sept. 22 at 3:00 pm & Sept. 29 at 7:00 pm
Performed at The Overtime Theater
5409 Bandera Rd, Ste 205
San Antonio, TX 78238
210.577.7562
theovertimetheater.org / theovertimetheater@gmail.com
Tickets are $15.00 general admission and available at the theater's phone or email address, at the door, or on