May. 31 - Jun. 22, 2019
Fridays-Sundays
The smash comedy hit of the London and Broadway stages, this much-revived classic from the playwright of Private Lives offers up fussy, cantankerous novelist Charles Condomine, re-married but haunted (literally) by the ghost of his late first wife, the clever and insistent Elvira who is called up by a visiting "happy medium", one Madame Arcati. As both the worldly and not so worldly personalities clash, Charles' current wife, Ruth, is accidentally killed. Who then "passes over", joining Elvira - and the two "blithe spirits" haunt the hapless Charles into perpetuity.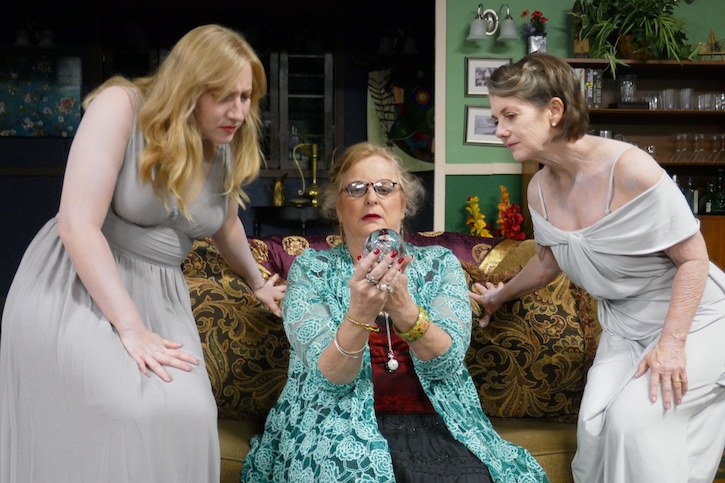 The Cast
Tamara Friedman as Ruth Condomine
Bill Craig as Charles Condomine
Tracy Cathey as Madam Arcati
Whitney Blake Bogus as Elvira
Lisa Doughty as Edith
Dr. Bradman as Howard Gentry
Mrs. Bradman as Barb Jernigan
The Crew
Francine Barnes – Director
Gio – Assistant Director/Crew
Tracy Cathey – Technical Director
Jennifer Gonzalez – Stage Manager
Sarah Jackson – 2nd Stage Manager
Gary Hamilton – Lights
---
Blithe Spirit
by Noël Coward
Way Off Broadway Community Players
Fridays-Sundays,
May 31 - June 22, 2019
Way Off Broadway Community Players presents the last show of our 22nd season, the classic ghost comedy, "Blithe Spirit" by Noel Coward. It is being directed by Francine Barnes, assisted by Gio.
Performances will be Friday and Saturdays May 31, June 1, 7, 8, 14, 15, 21 and 22 2019 at 8 pm, with a Sunday Matinee on June 9, 2019 at 3 pm.
Tickets are $20 for adults, $15 for students (with ID), seniors (60 Plus), Military & First Responders (with ID), and $10 for children (10 and younger). Tickets will be sold at the door. Reservations are encouraged: call (512) 259-5878 or visit http://www.wobcp.org.
Make Reservation
If you prefer, you may email your reservation request to reservations@wobcp.org,or call our un-manned telephone number, 512-259-5878 and leave a clear, concise message with your name, call-back number, show date, type (Adult, Child, Discount) and number of reservations.
We are located at 11880 Hero Way West, Bldg 4, Leander, TX 78641 (behind Smokey Mo's).
Check out our Facebook page at www.facebook.com/WOBCP/