May. 03 - May. 11, 2019
Thursdays-Sundays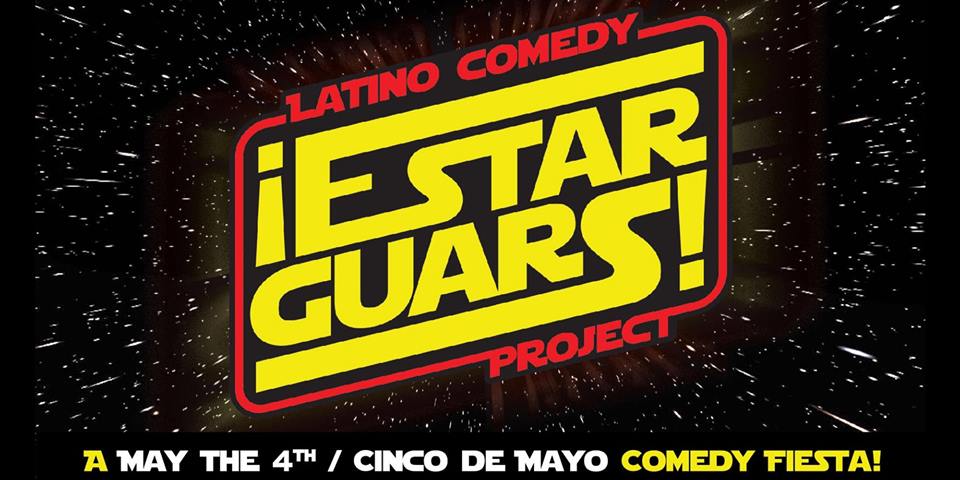 This is NOT your fanboy's "Star Wars."

This year, celebrate May The Fourth AND Cinco De Mayo with Emmy-nominated sketch group The Latino Comedy Project in a comedy fiesta set "not long ago, in a barrio just around the way…"



WATCH THE HILARIOUS "ESTAR GUARS" PREVIEW VIDEO: tinyurl.com/y2799787


After acclaimed, sold-out performances from Texas to California of its last show "Gentrif*cked," The Latino Comedy Project (LCP) continues its two-decade anniversary celebration with "¡Estar Guars!: A May The Fourth/Cinco De Mayo Comedy Fiesta."

In "¡Estar Guars!," the LCP asks the question: What would Star Wars have looked like if George Lucas had been JORGE Lucas?

In a loving homage of live comedy, original videos and visual spectacle made possible in part by a successful fan-driven 2018 LCP Kickstarter campaign, "¡Estar Guars!" re-creates the classic sci-fi rebellion as a modern-day Resistencia, complete with Galactic Walls, space chanclas, migrant moisture farmers, fearless princesas, mystical abuelas and the targeting of Sanctuary Planetas by an evil empire determined to MAGGA (Make A Galaxy Great Again).

In the first of what will become an annual geek event, "¡Estar Guars!: A May The Fourth/Cinco De Mayo Comedy Fiesta" promises a one-of-a-kind live multimedia comedy show full of high adventure, swashbuckling duels, and adorable furry brown creatures speaking in exotic alien tongues - like Spanglish! Don't miss it!
Written and directed by LCP Artistic Director Adrian Villegas ("Gentrif*cked," "Barrio Daze"), the "¡Estar Guars!" cast of performers also includes: Cindy Brio ("¡Escándalo!: The Improvised Bilingual Telenovela", "Mischief Managed"), Guillermo DeLeon ("Faena" playwright, "Nacho," Pronto Insurance Ad Campaign), Laura Galán Wells ("¡Escándalo!", "Alpha Quest," "The Darkness"), Andy Gonzalez-Bendiksen ("¡Escándalo!", "Barney Miller: Dark Knight"), Conrad Gonzales (TLC Network "CyberStalkers," Reelz Channel "Murder Made Me Famous"), John Johnston, Eva McQuade ("Real Women Have Curves," "Last: An Extinction Story"), Barbara H. Mojica ("Enfrascada," "MX: 499 Los Hijos del Aguila"), Alessandro Sanchez ("J.J.'s Arcade," USA Network's "Queen Of The South"), Nick Walker ("Gentrif*cked") and Elowen Wells ("Hope.")

This show is rated PG-13.
Feature by Savannah J. Salazar in The Austin Chronicle, May 1, 2019

ABOUT THE LATINO COMEDY PROJECT

The Latino Comedy Project is an Emmy-nominated sketch troupe known for its political and pop culture satire in full-length, award-winning multimedia shows. The LCP's YouTube comedy videos have amassed over 14 million views worldwide. The LCP cast also developed, wrote and starred in an MTV3 comedy branding campaign for which the group received an Emmy nomination.

The LCP's most recent critically-acclaimed sketch show "Gentrif*cked" enjoyed sold-out runs from Texas to California, receiving "Best Of Austin" recognition by Austin Chronicle critics. AUSTIN CHRONICLE LINK: tinyurl.com/y2xcy4fv

The San Francisco Chronicle hailed the LCP as "hilarious" and "murderously funny." The Austin Chronicle called the LCP "Hysterical...Snappy writing, immaculate timing, and an animated cast." The Austin American-Statesman said of the LCP, "Bitingly original sketch comedy is alive and well and Latin."

They're bad. They're brown. They're The Latino Comedy Project.



---
¡Estar Guars!
by Adrian Villegas
Latino Comedy Project
Thursdays-Sundays,
May 03 - May 11, 2019
Ground Floor Theatre
979 Springdale Rd
Austin, TX, 78702
The Latino Comedy Project returns May 3-11, 2019 at The Ground Floor Theater, 979 Springdale Road #122, Austin, TX.
GET "ESTAR GUARS" TICKETS NOW (March 23, 2019)AT 20% EARLY BIRD DISCOUNT PRICE (Limited Time!): estarguarscomedyfest.com
Tickets $20 plus service fees via

GET "ESTAR GUARS" TICKETS: estarguarscomedyfest.com