Video Promo: ¡ESTAR GUARS!, Latino Comedy Project, Ground Floor Theatre, May 3 - 11, 2019
(video from Adrian Villegas and Latino Comedy Project)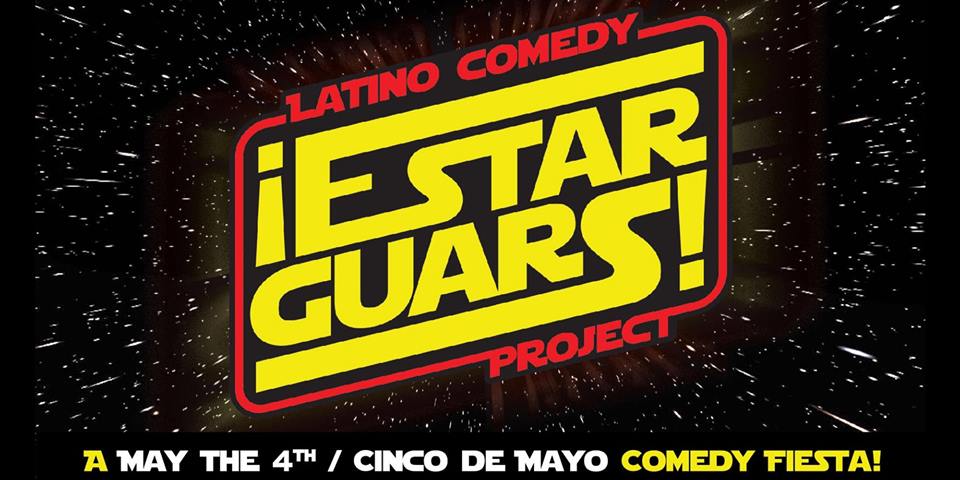 This is NOT your fanboy's "Star Wars."

This year, celebrate May The Fourth AND Cinco De Mayo with Emmy-nominated sketch group The Latino Comedy Project in a comedy fiesta set "not long ago, in a barrio just around the way…"



WATCH THE HILARIOUS "ESTAR GUARS" PREVIEW VIDEO: tinyurl.com/y2799787


After acclaimed, sold-out performances from Texas to California of its last show "Gentrif*cked," The Latino Comedy Project (LCP) continues its two-decade anniversary celebration with "¡Estar Guars!: A May The Fourth/Cinco De Mayo Comedy Fiesta."

In "¡Estar Guars!," the LCP asks the question: What would Star Wars have looked like if George Lucas had been JORGE Lucas?

In a loving homage of live comedy, original videos and visual spectacle made possible in part by a successful fan-driven 2018 LCP Kickstarter campaign, "¡Estar Guars!" re-creates the classic sci-fi rebellion as a modern-day Resistencia, complete with Galactic Walls, space chanclas, migrant moisture farmers, fearless princesas, mystical abuelas and the targeting of Sanctuary Planetas by an evil empire determined to MAGGA (Make A Galaxy Great Again).

In the first of what will become an annual geek event, "¡Estar Guars!: A May The Fourth/Cinco De Mayo Comedy Fiesta" promises a one-of-a-kind live multimedia comedy show full of high adventure, swashbuckling duels, and adorable furry brown creatures speaking in exotic alien tongues - like Spanglish! Don't miss it!
Written and directed by LCP Artistic Director Adrian Villegas ("Gentrif*cked," "Barrio Daze"), the "¡Estar Guars!" cast of performers also includes: Cindy Brio ("¡Escándalo!: The Improvised Bilingual Telenovela", "Mischief Managed"), Guillermo DeLeon ("Faena" playwright, "Nacho," Pronto Insurance Ad Campaign), Laura Galán Wells ("¡Escándalo!", "Alpha Quest," "The Darkness"), Andy Gonzalez-Bendiksen ("¡Escándalo!", "Barney Miller: Dark Knight"), Conrad Gonzales (TLC Network "CyberStalkers," Reelz Channel "Murder Made Me Famous"), John Johnston, Eva McQuade ("Real Women Have Curves," "Last: An Extinction Story"), Barbara H. Mojica ("Enfrascada," "MX: 499 Los Hijos del Aguila"), Alessandro Sanchez ("J.J.'s Arcade," USA Network's "Queen Of The South"), Nick Walker ("Gentrif*cked") and Elowen Wells ("Hope.")

This show is rated PG-13.
---
¡Estar Guars!
by Adrian Villegas
Latino Comedy Project
Thursdays-Sundays,
May 03 - May 11, 2019
Ground Floor Theatre
979 Springdale Rd
Austin, TX, 78702
The Latino Comedy Project returns May 3-11, 2019 at The Ground Floor Theater, 979 Springdale Road #122, Austin, TX.
GET "ESTAR GUARS" TICKETS NOW (March 23, 2019)AT 20% EARLY BIRD DISCOUNT PRICE (Limited Time!): estarguarscomedyfest.com
Tickets $20 plus service fees via

GET "ESTAR GUARS" TICKETS: estarguarscomedyfest.com