Not Every Mountain
by Rude Mechs
Apr. 17 - Apr. 28, 2019
Thursdays-Sundays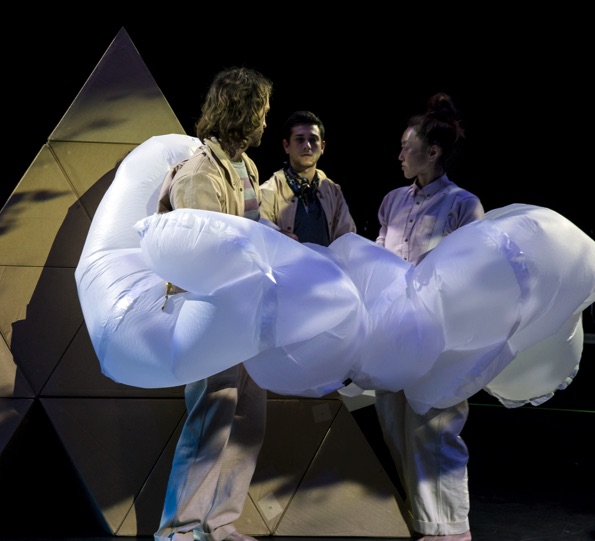 After a stint in Chicago as part of Pivot Arts Festival and a development residency in Minneapolis at the Guthrie Theatre, Not Every Mountain returns to Austin a little the same and a little different.
We don't wanna give away all the new fun stuff but we can tell you that Peter Stopschinski joins us playing live and this revised version features a contraption called an octahedral scissor lift.
Not Every Mountain is a mellow meditation on change, permanence and our place in the natural world. It is a presentation of the life cycle of mountains and the processes by which they are born and eventually laid to rest, an invocation of tectonic force and geologic time.

Using a string, cardboard and magnets, Not Every Mountain invites you to watch the collective effort of making and unmaking a series of interlocking mountain ranges. Watch minutes, or perhaps centuries, unfold, as mountains rise and fall, clouds dance, birds alight and depart, and a moon delicately hangs overhead. Not Every Mountain is a joyous and poignant meditation on the fleetingness of time and the many lives of rocks, underscored by a poetic recitation–or perhaps a spiritual incantation.
Podcast: Shawn Sides, Thomas Graves, and Peter Stopchinski discuss the creation of Not Every Mountain at the Fusebox Festival website
---
Not Every Mountain
by Rude Mechs ensemble
Rude Mechs
Thursdays-Sundays,
April 17 - April 28, 2019
Fusebox Festival April 17 - 20 at 7pm, Tickets are Free!
All shows are at Motion Media Arts Center, 2200 Tillery St.

Rude Mechs is extending the show through the week after the festival:
Dates: April 24 - 28 at 8 pm, April 27 at 2 pm
Tickets: Sliding Scale $5 - $35
Get your tickets today.