Apr. 12 - May. 04, 2019
Fridays-Sundays
Not only an exciting thriller but an evening of hysterical comedy. This ingenious play is written by the team that brought us A Sting in the Tale. Max is planning to murder his wife Janet, collect her life insurance, and enjoy life with his girlfriend, Suzy when cousins Mary and George arrive on their Greek island with news: Mary and Janet are beneficiaries of a huge fortune. Plans and plots hatch, and soon everyone is bent on murder. All that stands in their way is the presence of the next door neighbor, who knows a thing or two about murder, crime writer Edgar Chambers. This thrilling comedy is by the writer of the television series The Avengers.
Directed by Ed Trujillo.
Way Off Broadway Community Players presents the fifth show of our 22nd season, the comedy-thriller Anybody for Murder? by Brian Clemens and Dennis Spooner.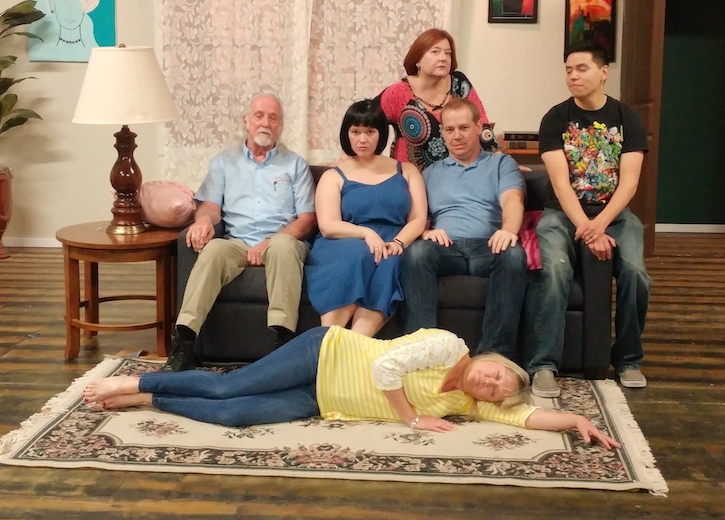 The Cast Includes: The Crew includes:
Max Harrington - Louis Zertuche Director Ed Trujillo
Janet Harrington - Cari Bernstein Stage Manager Jennifer Luster
Suzy Stevens - Caroline Olenoski Asst Director/Tech Ron Revell
Edgar Chambers - Glenn Aichlmayr Lights & Sound Greg Holmes
Mary Ticklewell - Crystal Hughes
George Ticklewell - Bryan Oswalt
---
Anybody for Murder?
by Brian Clemens, Dennis Spooner
Way Off Broadway Community Players
Fridays-Sundays,
April 12 - May 04, 2019
Evening performances at 8 pm:
April 12, 13, 2019
April 19, 20
April 26, 27
May 3, 4
Sunday matinee at 3 pm: April 28, 2019
Tickets are $20 for adults, $15 for students (with ID), seniors (60 Plus), Military & First Responders (with ID), and $10 for children (10 and younger). Tickets will be sold at the door.
Reservations are encouraged: call (512) 259-5878 or visit http://www.wobcp.org .
We are located at 11880 Hero Way West, Bldg 4, Leander, TX 78641 (behind Smokey Mo's).
Check out our Facebook page at www.facebook.com/WOBCP/