Mar. 29 - Apr. 07, 2019
Fridays-Sundays
Melodic, rollicking, and hilarious, this show is a delightful spoof of the classic horror tale and an unparalleled romp from start to finish. With an amazingly talented cast, this show is one you won't want to miss.
At its New York City premiere, patrons stood in line in a blizzard for tickets. At its Australian premiere, every seat for every performance was sold, and one critic noted, "The performance was one of the most enjoyable I've seen. My only other experience of the Dracula play was the one that Sir Robert Helpmann directed. I can honestly say I enjoyed this one much more. It exhibited a superb sense of humor."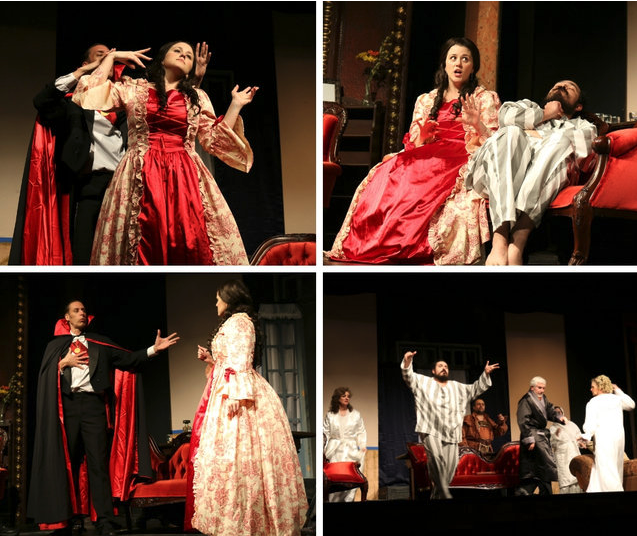 Starring:
Brian Moore as Dracula
Terry Moore as Neely Norton
Kelsey Helton as Mina Seward
Richard Dodwell as Dr. Sam Seward
Vicki Benson as Sophie Seward
Linn Macejewski as BuBu Padoop
TJ Condit as Dr. Van Helsing
Jason Farley as Boris Renfield
Dominic Holcomb as Johnathon Hawker
Les Young - Musical Director
Directed by Chester Eitze
---
Dracula: the musical?
by Rick Abbott
Bastrop Opera House
Fridays-Sundays,
March 29 - April 07, 2019
March 29, 30, 2019 at 7:30 pm
April 5, 6, 12, 13 at 7:30 pm
April 7 at 2:30 pm
$15 Adults
$12 Seniors (65 +)
$12 veterans
$10 Students
$8 Children 14 and under
Click HERE to purchase tickets on-line
Directed by Chester Eitze