Mar. 22 - Apr. 13, 2019
Fridays-Sundays
Ah, don't act surprised. Why should book clubs be different from all the other small groups we humans belong to: families, committees, PTAs, spy rings? It's all clashing egos, hidden jealousies, things unsaid, and even though it's "just books"—dry words on dry paper—we know someone, inevitably, is going to get punched in the face.The Book Club Play is a delightful new play about life, love, literature and the side-splitting results when friends start reading between the lines.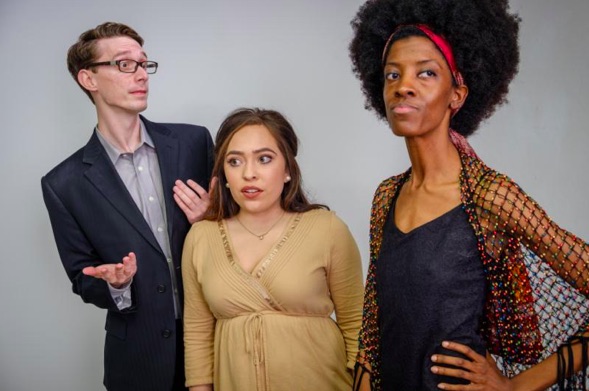 Directed by long-time Different Stages' actress, Nikki Zook (The Children's Hour), The Book Club Play features three actors who have appeared in previous Different Stages Productions. Kelsey Mazak (Yankee Tavern), Will Douglas (GreatExpectations) and Beau Paul (The Magic Fire). Completing the cast are: Haley Armstrong (Terminus), Brandi Andrade (If I Forget), Michael Galvan (Sangre Deun Angel) and Makayla Perez (West Side Story).
Video lnterview with director Nikki Zook
---
The Book Club Play
by Karen Zacarias
Different Stages
Fridays-Sundays,
March 22 - April 13, 2019
March 22 – April 13, 2019
Santa Cruz Theatre
1805 East 7thStreet
Thursdays - Saturdays at 7:30 p.m.,
Sunday at 5:00 p.m.
$15, $20, $25 Thursday
$20, $25, $30 Friday & Saturday & Sunday
For tickets go to www.differentstagestheatre.org
For Information call 512-926-6747