Review: The Book Club Play by Different Stages
by Amanda Paz
Secrets and gossip are part of having friends. There may come a time too much is revealed and no one can take it anymore.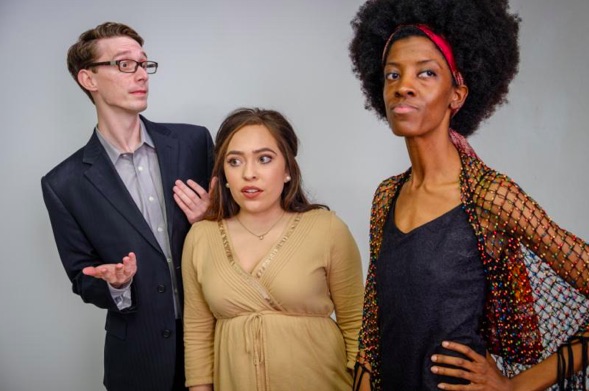 In The Book Club Play Karen Zacarias introduces five characters who come together to form a book club. The revelation of their different personalities keeps the club continually interesting. Ana the club leader is a control freak trying to hide it, and Robert is a washed-up college quarterback who doesn't have a say in most things. With them are Lilly the go-with-the-flow type, Jennifer the klutzy popular girl trying to learn from her mistakes, and William the nerdy organizer. When the group is featured in a documentary film, the perfect club Ana has so neatly built falls apart.
Karen Zacarias is known for many award-winning plays and for musicals such as Jane of the Jungle, Cinderella Eats Rice and Beans, and Ferdinand the Bull. Zacarias makes her characters relatable to everyone by giving them modern-day problems. The theme of The Book Club Play is that you'll know someone's true self only if you can read between the lines.
Set designer Elisa Stancil created a beautifully modern 2011 living room that's as pretty as a picture. Director Nikki Zook's blocking takes advantage the elegance of this simple but magnificent set. One intriguing original aspect was a projector wall lowered create the interview room where we first meet the characters. Paula Gilbert's costumes fit the characters' personalities and lifestyle choices, further enhancing the presentation.
Zook dealt with the absence of the seventh actor from the cast by playing sound recordings of interviews during scene transitions, featuring other comic characters in book clubs.
The spectacular chemistry evident among the six actors onstage brought the characters to life. One of the most appealing is Will Douglas as nerd William Lee Nothangel, struggling with coming out of the closet. Many gay persons of his age are terrified of what their family and friends may think. While discussing The Da Vinci Code by Dan Brown, William eventually confesses he liked it and then, unexpectedly, proceeds to kiss Robert and confess his pent-up feelings for him.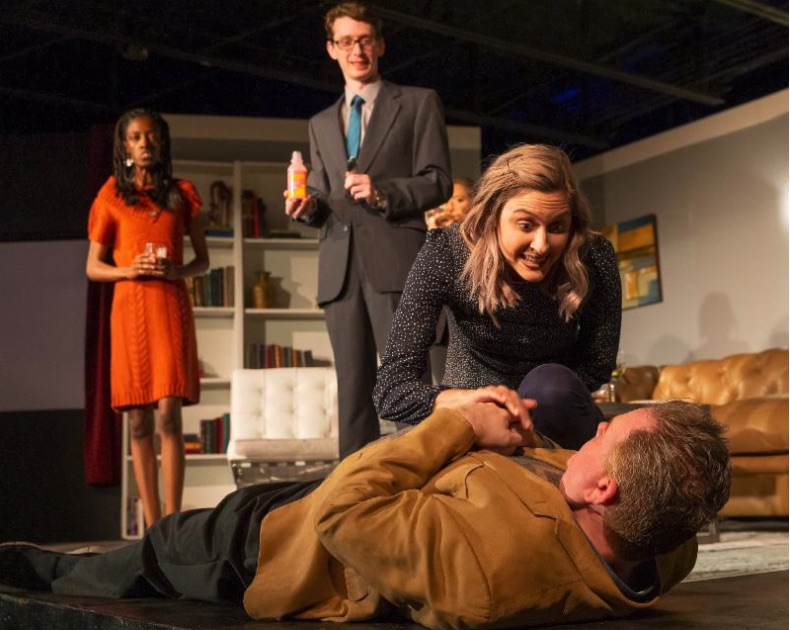 The standouts of the cast are Kelsey Mazak as organizer Ana and Makayla Perez as Jennifer. Mazak did a phenomenal job of portraying a silent character and then brilliantly hitting her peak of distress with an outburst. Also eye-catching about Mazak's performance were the mannerisms and body language that brought Ana even more vividly to life. Makayla Perez's facial expressions were marvelous in the double take after she kissed Beau Paul's character Robert and they realized what they had done. The audience loved it.
The Different Stages production of The Book Club Play runs March 22 - April 13 at the Santa Cruz Theater, 1805 E.7th Street Austin, Tx, 78702. It is not appropriate for those under 15 years of age.
---
The Book Club Play
by Karen Zacarias
Different Stages
Fridays-Sundays,
March 22 - April 13, 2019
March 22 – April 13, 2019
Santa Cruz Theatre
1805 East 7thStreet
Thursdays - Saturdays at 7:30 p.m.,
Sunday at 5:00 p.m.
$15, $20, $25 Thursday
$20, $25, $30 Friday & Saturday & Sunday
For tickets go to www.differentstagestheatre.org
For Information call 512-926-6747