Mar. 01 - Mar. 23, 2019
Fridays-Sundays
Hollywood-movie-inspired musical comes to the Overtime
Frog's Legs: Love Among the Lily Pads
An enchanting musical tale of love and self-importance
Written by Bethany Schwartz
Directed by Nicole Erwin
Created in the style of 20th century Hollywood movie musicals, Frog's Legs is an original musical that explores the experience of being in a relationship and the desire to be accepted and loved. Lighthearted and fun, the musical could best be described as a cross between Midsummer Night's Dream and Seinfeld with an amphibious twist. Writer Bethany Schwartz conceived the play while penning a one-act for a 24-hour play festival. Schwartz says each of the characters represents a large part of her own real-life romantic experiences.
The story revolves around Tad (Cesar Duenas) and his quest for ultimate fulfillment in the wake of lost love. Can he stay resilient? Unrealistically romantic, imaginative, but exceedingly arrogant, Tad must learn the hard way that his narcissistic nature isn't for everyone. Is he willing to make a change in the name of love?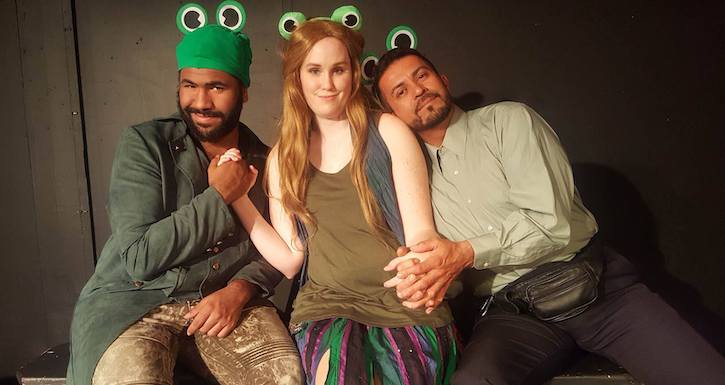 Director Nicole Erwin describes the show as "the musical of all musicals wrapped up in a Hollywood film package. With catchy songs and even a Singin' in the Rain-inspired tap number, audiences will immediately feel like they're being transported onto the set of an Elvis movie musical."
Frog's Legs is an evening full of humor, conflict and spine-tingling danger. Award-winning fight choreographer Morgan Clyde (By Our Hands) created the culminating fight scene. Audiences are sure to enjoy Xanadu-type rock ballads and rollicking show tunes inspired by Meatloaf, 60s doo-wop, Zydeco, and musicals like Once on this Island, The Pajama Game and Grease. With its themes of love, rebirth, the call of nature (plus some tasty dipteran snacks), Frog's Legs is a reason to leap over to the Overtime for a hoppin' good time.
Cast:
Tad - Cesar Duenas
Polly - Jessica Roberts
Hopper - Steven Mortimer
Frog Daddy 1/ Alien Leader - Robert Moritz
Frog Daddy 2- Carrie Rodriguez
Phibee the Frog Mama/Restroom Attendant - Lacey Dalby
Hippie Frog/Restette - Allie Gomez
Feral the Cat - Sel Tope
Hippie Frog / Restette - Allie Gomez
Pookie the Cat / Restette - Allie Gomez
Snipps the Cat / Alien Assistant /Restaurant Server / Backup Restette - Elise Hernandez
Bobbie the Cat / Restette / Lily / Gnome - Amie Rose
Creative Team:
Playwright: Bethany Schwartz
Original Musical Score: Bethany Schwartz
Musical Arrangements: Stewart Thompson and Dan Timoskevich
Director: Nicole Erwin
Assist. Direction by Bethany Schwartz
Fight Choreographer: Morgan Clyde
Stage Manager: Sel Tope
Set Design: Jonathan Schell
Lighting Designer: Chuck Drew
Costumes: Nicole Erwin and Jonathan Schell
Propmaster and Wigmaster: Jonathan Schell
Sound and Light Engineer: Dan Timoskevich
Graphic Design and Photography: Nicole Erwin
##
---
Frog's Legs
by Bethany Schwartz
Overtime Theater
Fridays-Sundays,
March 01 - March 23, 2019
March 1-23 in The Overtime Gregg Barrios Theater
Overtime Theatre
5409 Bandera Rd Ste 205, San Antonio, TX 78238
Fridays and Saturdays at 8pm; Sunday 3/10/19 at 3pm
Tickets $10 - $15 plus service fees, available via

The play includes some adult situations and is acceptable for audiences over 14 years of age.