Jan. 28 - Feb. 02, 2019
Monday, Wednesday, Friday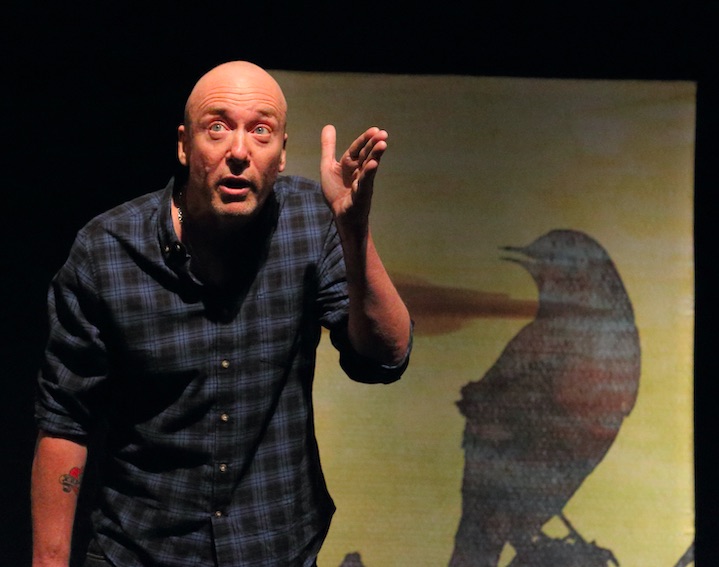 Jim Loucks' new show Booger Red was created as part of an Artist Residency in Madisonville, KY, and premiered at their first-ever Bacon Blues and Big Stories Festival. The goal of the Artist Residency and Festival was to encourage the arts in their community through storytelling and music, to help people find their own creative means of expression. This inspired Jim to talk about his own journey of finding his voice, and eventually to the parallels to his father's journey of becoming a Hellfire and Brimstone Southern Baptist preacher. Now he's taking the show on tour and hopes that this story will inspire others to claim their own unique voice.
Growing up, Jimmy felt like he had no voice. His preacher father needed him to be perfect, to believe, to represent the family as a paragon of Christian values. But what if he didn't believe? What if he was meant to speak a different truth? He had to break out and find his own way, discovering on his journey that he was a performer and storyteller.
But his father didn't start out as a preacher. Booger Red began his life as the hooligan son of alcoholic parents, left to fend for himself in a chaotic childhood. Dropping out of school at the age of 14, he had to travel his own road of discovery, eventually becoming a rock star Hellfire and Brimstone Southern Baptist preacher, attracted to its structure and guidance, and thrust into the spotlight by his natural talent for performance.
Born in South Georgia and now living in Venice, CA, Loucks has been touring his solo shows nationally for the last several years, earning "Best Solo Performance" at the Tucson Fringe. Loucks has previously traveled the country with his first two solo shows Cemetery Golf and The Biscuiteater, which had successful runs at FronteraFest in Austin, the Electric Lodge in Venice, CA, United Solo in NYC, Piccolo Spoleto in Charleston and the Fringes in Orlando, San Diego, Hollywood, San Francisco, Boulder, Scranton, Chicago, Tucson, Ottawa and the Cincy Fringe, where he received a CityBeat critic's pick.
Booger Red is directed by Lisa Chess.
---
Booger Red
by Jim Louks
FronteraFest
Monday, Wednesday, Friday,
January 28 - February 02, 2019
Ground Floor Theatre
979 Springdale Rd
Austin, TX, 78702
im Loucks' Booger Red will be performed at 9:15 p.m. on Monday January 28, 7:00 p.m. on Wednesday January 30, 9:15 p.m. on Friday February 1, and 4:00 p.m. on Saturday February 2 at Ground Floor Theatre, 979 Springdale Rd, Austin, TX 78702. Tickets are $10, available at www.hydeparktheatre.org and www.jimloucks.com.
Performances at Ground Floor Theater.
Map