Review: Booger Red by Jim Loucks at FronteraFest
by David Glen Robinson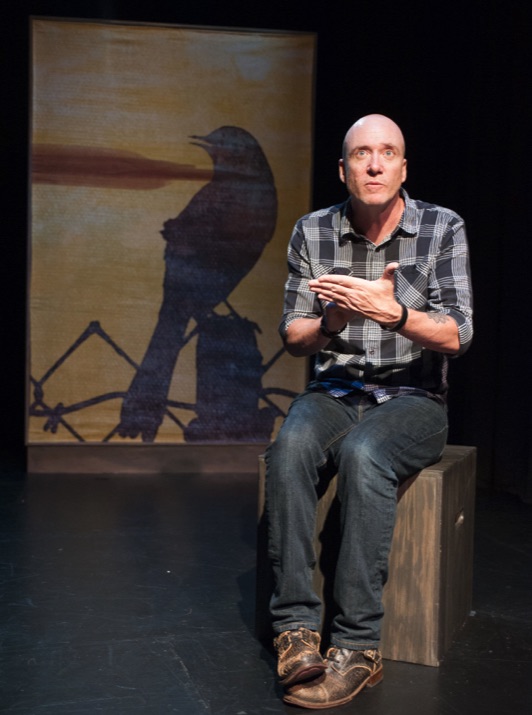 Storytelling is in good hands with Jim Loucks. He is tall, many voiced, and gifted with outgoing generosity and the evident drive to create the finest one-person shows in this generation. Booger Red is another well-appointed household in the village of Loucks' solo career.
Booger Red is the performance tribute to Jim Louck's father, Booger Red, a dynamic Baptist preacher in the mold of Billy Graham but without the stadium preaching series. As expected, Booger Red definitely lives in the theme of parents who overshadow their children and complicate their struggles toward independence.
The one-hour show is filled with stories, both of Booger Red and his son Jim. There is Booger Red's snowy escape from violent alcoholic parents and their later escape from him, leaving a good-bye note on the kitchen table. That happened when he was 14, the year he dropped out of middle school. He found refuge with his grandmother and the family of a preacher who inspired him to the ministry. Among the characters is Booger Bob, constantly working on his wheezing automobile, who finally accedes to a cross-country trip with Booger Red. There's the story of Booger Red's first job selling shoes, an occupation he loved. He commented, "I enjoy finding what you really want., which becomes the first symbolic explanation of Booger Red's later fiery preaching. He was selling Jesus, obtaining the same satisfaction and passion as when he was selling shoes, only at a higher level of abstraction and love.
Booger Red's son, Jim, told his own stories, all woven in seamlessly with those of Booger Red. We see Jim as the stereotypical Preacher's Kid, or PK, beer in one hand, cigarette in the other, singing Billy Joel songs and being caught by the stern Booger Red. We also witness Jim's epiphany in Yosemite National Park, when he heard his call -- not to the ministry but to drama and acting.
As directed by Lisa Chess, the one-person performance is remarkable for the seamless yet clear transitions back and forth Loucks makes between the stories of Booger Red and Jim. A lectern and wooden stage cube comprise the simple stage set. Loucks' voice work is clear but muted, his character voices merely suggesting those of women, truck drivers, young and old preachers, diction teachers, drama professors, and others. But when he sings he belts it out. Most memorable are the character inflections in a rendition of an old church standard, "The Stranger from Galilee," sung at first by a shy character who warms to the task and finishes with dramatic flourishes.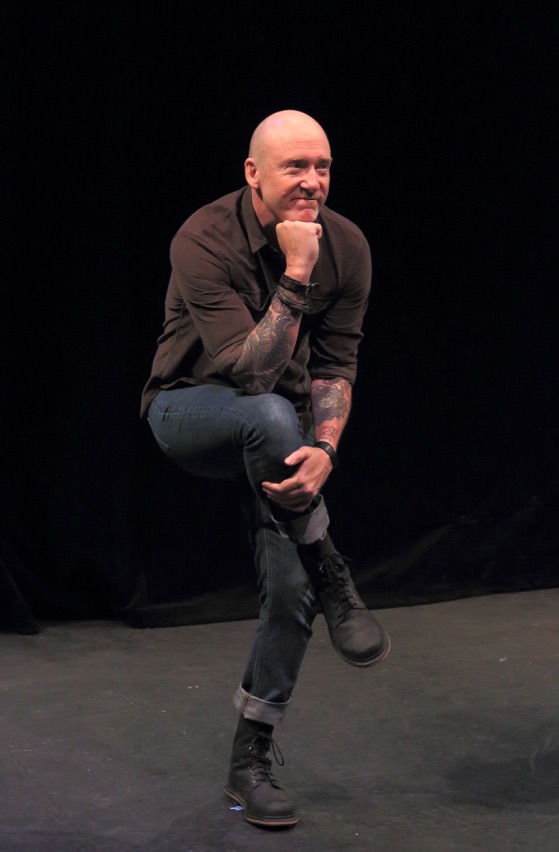 Loucks' memorable characters reside in his body as well as in his voice. He dances brief transitions to change time, space, and character, and the changes are fluid and distinct: one can see clearly the imaginary beer can in one hand and the imaginary cigarette in the other. Again, Lisa Chess' sdirectorial guidance is to be credited.
Booger Red and Loucks' other one-person shows give us, in live performance, curated accounts of Southern life, a region that's not disappearing from the cultural map but is certainly engaging transitions of its own. Loucks keeps it personal all the way, with a degree of honesty seldom seen on stage. He laments the separations between himself and his father, while glorifying the regional past. The ending seemed a bit too handcrafted for maximum believability, seemingly imposed to bring the performance in at an hour's running time.
The enjoyments of Booger Redare many, however, and as with all Fronterafest performances, it will be gone when you read this. Look for Jim Loucks to cycle back around at the next Fronterafest.
---
Booger Red
by Jim Louks
FronteraFest
Monday, Wednesday, Friday,
January 28 - February 02, 2019
Ground Floor Theatre
979 Springdale Rd
Austin, TX, 78702
im Loucks' Booger Red will be performed at 9:15 p.m. on Monday January 28, 7:00 p.m. on Wednesday January 30, 9:15 p.m. on Friday February 1, and 4:00 p.m. on Saturday February 2 at Ground Floor Theatre, 979 Springdale Rd, Austin, TX 78702. Tickets are $10, available at www.hydeparktheatre.org and www.jimloucks.com.
Performances at Ground Floor Theater.
Map