Jan. 25 - Feb. 17, 2019
Thursdays-Sundays
Set in the East Village of New York City, this is an inspiring musical about friends and artists struggling with addiction, poverty, and most of all – love. Winner of the Tony Award for Best Musical and the Pulitzer Prize for Drama, the story about falling in love, finding your voice and living for today is loosely based on Puccini's La Bohème.
*May contain themes and content not suitable for all audience members.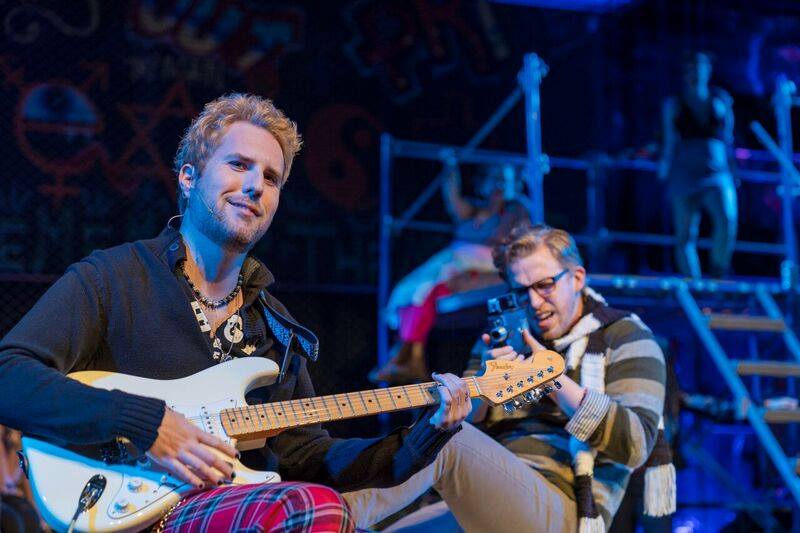 Feature by Deborah Martin, San Antonio Express-News, January 21, 2019
Cast
Roger: Robby French*
Mark: Gavin Rohrer*
Maureen: Taylor Chilton
Joann: Alexandria Henderson*
Benny: Damon McToy*
Collins: Isidro Medina
Angel: Louie Canales
Mimi: Athena Boneta
Ensemble: Courtnie Mercer
Ensemble: Jennifer Hoskins
Ensemble: Sara Brookes
Ensemble: Melissa Danielle
Ensemble: Josey Porras
Ensemble: Alyssa Lopez
Ensemble: Anthony Castro
Ensemble: Travis Trevino
Ensemble: Robby Vance
Ensemble: Sean Salazar
Production/Creative Team
Director: David Nanny
Music Director: Zachariah Baker
Piano/Conductor: Andrew Hendley
Choreographer: Courtnie Mercer
Stage Manager: Courtney Blake LeFan*
Set Design: George Green and Jeremy Whittington
Technical Director: Daniel Heggem
Sound: Jesse Worley
* Member Actor's Equity Association
---
Rent
by Jonathan Larson
The Public Theater
Thursdays-Sundays,
January 25 - February 17, 2019
RENT runs January 25th-February 17th in the Russell Hill Rogers Theater. For tickets and more information, visit our website at thepublicsa.org.
Tickets $15 - $40 plus service fees, available on-line via

Pay What You Can Preview Night- January 24th, 2019 at 7:30 p.m.
Opening Night- January 25th, 2019 at 7:30 p.m. (Reception to follow with catering provided. Wear your best RED attire!)
American Sign Language Night- February 9th, 2019 at 7:30 p.m.

To get your tickets click here or call the box office at 210-733-7258.
[Artwork Creation and Design by Jeremy Whittington]