Jan. 04 - Jan. 26, 2019
Fridays-Sundays
A Broadway hit first produced on the West End under the title Gaslight and filmed twice, Angel Street tells the diabolical story of the Manninghams, who live on Angel Street in 19th century London. As the curtain rises, all appears to be the essence of Victorian tranquility. It is soon apparent, however, that Jack, a suavely handsome man, is slowly driving his gentle, devoted wife, Bella, to the brink of insanity with an insinuating kindness that masks more sinister motives. And, since Bella's mother died of insanity, she is more than half convinced that she is going out of her mind. While her husband is out, she has an unexpected caller: amiable, paternal Inspector Rough from Scotland Yard. Rough is convinced that Jack is a homicidal maniac wanted for a murder committed fifteen years earlier in this very house, and fears Bella is in grave danger. Gradually, the inspector restores Bella's confidence in herself and, as the evidence against Manningham unfolds, the author has built and sustained some of the most brilliant, suspenseful sequences in modern theatre.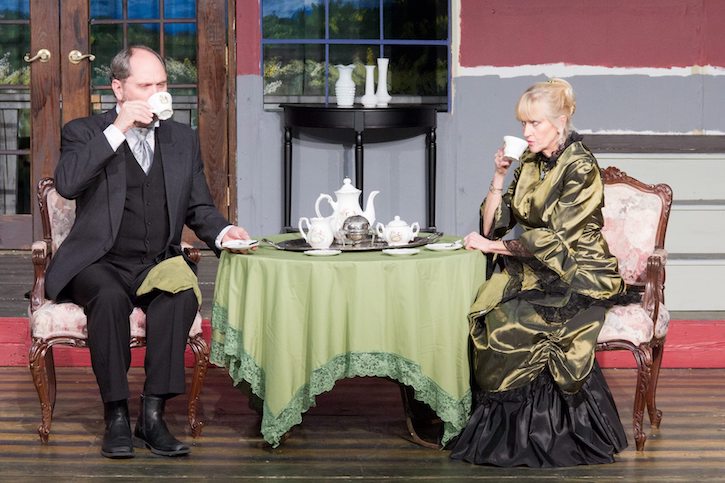 Sergeant Rough (Roy Moore) tries to gain the trust of Bella Manningham (Tracy Cathey) by explaining his great history (he's retired) of solving crimes. In fact, one of them was in this house. He has heard about Bella's situation from a friend who happens to be the maid Nancy's boyfriend. Can Bella trust him?
The Cast
Tracy Cathey as Bethany
Bill Craig as Jack Manningham
Roy Moore as Inspector Rough
Shelly Kelly as Elizabeth
Lisa Doughty as Nancy
The Crew
Gary Dean Hamilton – Director
Bryan Oswalt – Assistant Director
Sarah Jackson – 2nd AD/Stage Manager
Jeremy Mielens – Lights and Sound
---
Gaslight - Angel Street
by Patrick Hamilton
Way Off Broadway Community Players
Fridays-Sundays,
January 04 - January 26, 2019
Evening Performances at 8 pm:
January 4, 5, 2019
January 11, 12
January 18, 19
January 25, 26
Sunday Matinee: January 13, 2019
If you prefer, you may email your reservation request to reservations@wobcp.org,or call our un-manned telephone number, 512-259-5878 and leave a clear, concise message with your name, call-back number, show date, type (Adult, Child, Discount) and number of reservations.
Ticket Prices
Adult -> $20
Child -> $10 (ages 10 and under)
Discount Tickets -> $15 (Available to Seniors (60+), Students(11-18), College (with ID), and Military/First Responders (Current or Ret., with ID)
or go to the WOBCP website's ticketing link (bottom of page).