Nov. 30 - Dec. 01, 2018
Friday-Saturday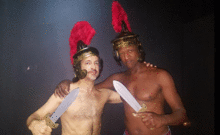 Back by popular demand! That's right. And this time with even more feeling and a touch of holiday cheer!
Join us for a return engagement of this hilarious comedy November 30 and December 1.
What is this show about you ask? Gladiators in Love by Masinter and Leonard is a farcical musical parody of the movies Spartacus and Butch Cassidy and the Sundance Kid with a lot of the old fifties Steve Reeves Hercules movies and Brokeback Mountain thrown in. It has characters based on Greek gods and goddesses, Roman courtesans, Daisy Duke, the Marx Brothers, Donald Trump and Dom DeLuise with a speech written by Dietrich Bonhoeffer.
No sacred cow is left un-barbecued. No morality code left untrampled. No pompous propped up political position left standing. The singers and actors are among the best San Antonio theater has to offer. The writers are local award-winning legends who really should be ashamed of themselves, but they are not. In short, the show is perfect for The Overtime Theater audience or…anyone else who has the lowest taste in entertainment and the highest sense of humor!
NOTE: Not for the prudish or easily offended.
Written by Mark Leonard
Music by Tom Masinter
Directed by Tim Hedgepeth
The show will be a semi-staged reading with music.
The inspiration for Gladiators In Love
Steve Reeves, gladiator, Hercules, Goliath, Aeneas of Troy, Romulus of Rome and the highest-paid actor in Europe in the late 1950' and early 1960's. Born in Montana, he became the ultimate European "sword and sandal" movie star. All his dialogue was dubbed in post-production in whatever language was required. He is also famous for turning down three famous lead movie roles. The first was Cecil B. DeMille's Samson and Delilah because they wanted him to lose weight which would have put his body building career in jeopardy. The role went to Victor Mature and made him a star. The second was the role of James Bond in Dr. No, the first Bond movie, because the salary was too low. That role went to Sean Connery and made him a star. The third was A Fistful of Dollars because he did not believe Italians could make Westerns. That role went to Clint Eastwood and it made him a star. Easy-going Reeves didn't even care. He was already a mega-star. After a short 13-year movie career and multiple injuries from doing his own stunts, he retired to his ranch, raised horses, promoted drug-free body building, and published body building books.
And we can't forget Peter Graves in the movie Airplane. "Joey, do you like movies about gladiators?"
---
Gladiators in Love
by Mark Leonard, Tom Master
Overtime Theater
Friday-Saturday,
November 30 - December 01, 2018
Performances on Nov 30 and Dec 1 at 8:00 pm in The Gregg Barrios Theater
Tickets $11.34 including service fee, available online at