Nov. 29 - Dec. 16, 2018
Fridays-Sundays
The Hill Country Community Theatre adds more laughter to the mix with the second show of its 2018-19 season, "Sorry! Wrong Chimney!," written by Leo W. Sears and Jack Sharkey, which opens November 29th and runs through December 16.
The farcical comedy takes place ten days before Christmas in the apartment of a newly married couple, David (Michael Fox) and Samantha (Bess Gershowitz) Tuttle. Just before Christmas, David has been secretly playing the role of Santa to earn money to buy his wife a Christmas present. She thinks he is working late at the office.
Problems ensue after Samantha calls the office and finds out the office has been closed. She shares her concerns with her snooty neighbor Natalie Weldon, played by Toni Souther. Mix that with a thief dressed as Santa, played by Randy L. Hilmer, and the antics begin. Anson J. Hahn (policeman) gives a hysterical, hypnotically induced striptease that will leave you rolling on the floor in laughter. Christina Munoz plays the voluptuous Shelia who is protecting her precious Santa-burglar boyfriend. Don Jacks plays William Weldon, who knows how to wisecrack with zings and barbs that are sharp, swift and frothy.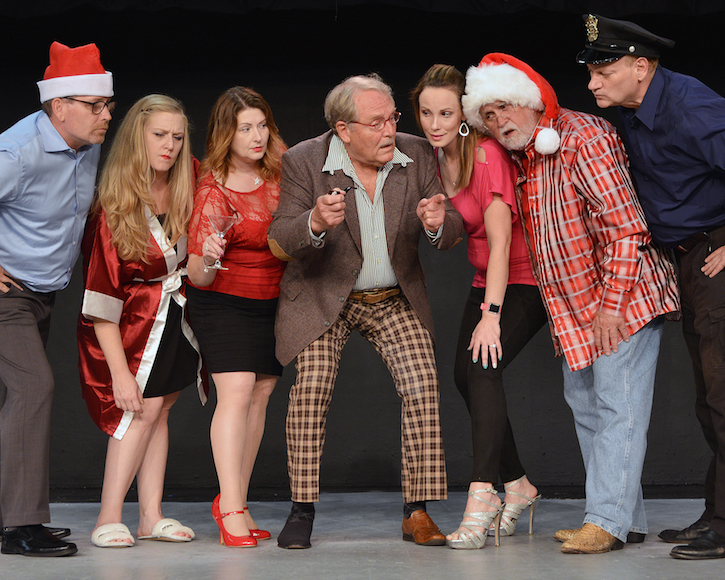 Mike Rademaekers, executive director of HCCT, said audience members will leave the theater with a smile, embracing the spirit of the season. "The comedic timing of this play falls right in line with the farcical nature of the story," Rademaekers said. "This is the kind of show that you come to for relaxation and laughter. What better way to laugh than with a Yuletide show? This is a funny play and the perfect distraction from all the holiday stress."
---
Sorry! Wrong Chimney
by Leo W. Sears, Jack Sharkey
Hill Country Community Theatre (HCCT)
Fridays-Sundays,
November 29 - December 16, 2018
Show times are 7:30 p.m. Thursdays through Saturdays, and 2:15 p.m. Sundays, November 29 - December 16, 2018.
Tickets go on sale November 21 for the general public. HCCT Season Subscribers may make reservations starting November 19.