Nov. 08 - Nov. 25, 2018
Thursdays-Sundays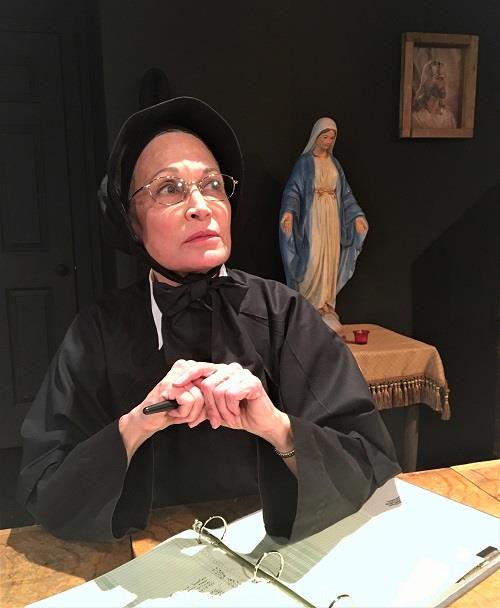 Kicking off the 13th season, City Theatre Austin is excited to present John Patrick Shanley's critically acclaimed stage play Doubt: A Parable. Winner of the Tony Award and the Pulitzer Prize for Drama, it is directed by guest director Rick Roemer and features Joel Gross, Brooke Culbertson, and April Patterson, with Babs George as Sister Aloysius.
NEW SHOW DATES AND LOCATION:
November 8 – 25. Thursday – Saturday 8 pm. Sunday 3 pm.
No show Thursday, November 22.
Trinity Street Theatre. 901 Trinity Street. Austin, TX 78701
"If I could, Sister James, I would certainly choose to live in innocence. But innocence can only be wisdom in a world without evil. – Sister Aloysius
Doubt brings a gripping storm of suspicion and scandal where no simple truths or answers exist. Set against the backdrop of 1960s America, a turbulent time of political and social change, a progressive young priest's conduct at a Bronx Catholic school comes under question by one of the sisters, whose beliefs are deeply rooted in a stern and unquestionable tradition. As the actions and motivations of each are scrutinized and suspicion mounts, the two are drawn into a battle that threatens irrevocable consequences. In this powerful story, doubt lies in the mind of everyone involved.
"It is doubt (so often experienced initially as weakness) that changes things." – John Patrick Shanley
Playwright John Patrick Shanley is an accomplished writer and director. The youngest child of Irish immigrants, he attended an East Bronx Catholic school for most of his upbringing until constant rebellion led to his expulsion. Reflecting on his childhood, he recalled "People would look at me and become enraged. I believe that the reason was, they could see that I saw them. And they didn't like that." Doubt, which opened on Broadway in 2005, won the Tony Award for Best Play, New York Drama Critics Circle Award, The Drama League Award, the Drama Desk Award, and the Pulitzer Prize. Shanley's original screenplays include The January Man, Five Corners, and Moonstruck, for which he won an Oscar, and the screen adaptation of Doubt earned him an Academy Award nomination. His list of plays, many of which he directed, include Defiance, Savage In Limbo, Beggars In the House of Plenty, Italian American Reconciliation, Four Dogs And A Bone, Danny and the Deep Blue Sea, and Dirty Story.
Guest director Rick Roemer is an actor, voice actor, director, and teacher. He recently retired as a professor of Theatre from Southwestern University. Earlier this year, he directed The Father for Jarrott Productions and upcoming, he is reprising the role of Jasper in Austin Playhouse's The Mystery of Edwin of Drood. He received his PhD from UCLA in Theatre and is the author of "Charles Ludlam and the Ridiculous Theatrical Co."
The Cast. Leading the way is Austin actress Babs George as Sister Aloysius Beauvier. While she has worked professionally in regional theatres across the country, Austin is home: Tribes (Zach Scott Theatre), Merry Wives of Windsor (Austin Shakespeare), The Glass Menagerie (TexArts), The Secretary (Theatre en Bloc), Clybourne Park (Penfold Theatre), Pride and Prejudice (St. Edwards Mary Moody Theatre), The Cherry Orchard (Texas State University), and numerous performances as a company member of the Austin Playhouse. She has an M.F.A. from The Shakespeare Theatre and George Washington University, is the creator and director of The Actor's School, and has taught at Texas State University, St. Edwards, University of Texas, and Southwestern University. Babs has been a member of Actors' Equity and Screen Actors Guild for over 35 years. Also featured in the production, is the talented cast of Joel Gross (Father Flynn), Brooke Culbertson (Sister James), and April Patterson (Mrs. Muller).
The City Theatre Company is excited to be celebrating its 13th anniversary season of live theatre entertainment in Austin. CTC is an Austin-based, not-for-profit arts organization and is sponsored in part by the Austin Creative Alliance and the Austin Cultural Arts Division. Founded in 2006, the company has been recognized by the Austin Critics Table Awards, the B. Iden Payne Awards, the Central Texas Excellence in Theatre Awards, Austin Live Theatre, BroadwayWorld Austin and has twice been voted "Best Theatre Company" by Austin American-Statesman's Austin 360. CTC is dedicated in providing quality theatrical experiences and entertainment for Austin artists and its community and continues the commitment to making productions accessible for everyone. CTC offers its discount ticket program with $10 Thursday seats and $12 student seats for any show. The ticket discount is available throughout the 2018 - 2019 season.
---
Doubt
by John Patrick Shanley
City Theatre Company
Thursdays-Sundays,
November 08 - November 25, 2018
Trinity Street Players
Black Box Theatre, 4th floor, First Baptist Church
901 Trinity Street
Austin, TX, 78701
November 8 – 25. Thursdays – Saturdays 8 pm. Sundays 3 pm. No show Thursday, November 22.
Trinity Street Theatre. 901 Trinity Street. Austin, TX 78701
General Seating $15. Center Row Reserved $20-25. Thursday all seats $10.
Tickets at the door $20. Group and student discounts.
Tickets 512-524-2870 or info@citytheatreaustin.org. www.citytheatreaustin.org