Oct. 26 - Nov. 17, 2018
Fridays-Sundays
There's a killer on the loose at Camp Sunrise. And possibly another killer. And likely another one, too. And a vampire, a mummy, and other things that go bump in the night. Will our plucky campers make it through the woods alive? Or will they end up the next victims of the monsters that lurk in the shadows?
The Overtime Theater brings you the Halloween monster-flick comedy Unhappy Campers, which boasts a cast entirely comprised of women!
Featuring: Deborah Basham-Burns, Lacey Dalby, Ashley Deleona, Emery Dorman, Dara Farnsworth, Roslynn Graves, Noelle Segapeli, and Autumn Segura.
Performed at The Overtime Theater, San Antonio (otsatx.org) on October 26, 27, November 2, 3, 9, 10, 16, 17 at 8:00 pm; November 4 at 3:00 pm and November 11 at 7:00 pm.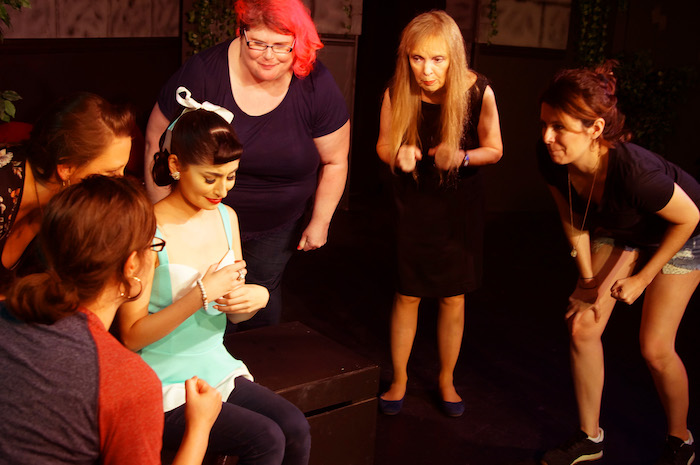 William Mohammad Razavi is the Artistic Director of the Overtime Theater. Born in Tehran, Iran in 1973, he took his first steps at Fort Benning, Georgia and grew up in Texas where he earned his BA from Trinity University. He went on to earn his MFA in Dramatic Writing from Brandeis University. His play Making Up For Lost Time was work-shopped at the American Repertory Theatre in Cambridge, Massachusetts and was nominated for an ATAC Globe award in San Antonio. His play The Sign of the Times was published in Trickster's Wayin 2009 and performed at the Luminaria Arts Festival 2010. His other plays include Macbeth, The Next-To-Last-Flight of Amelia Earhart, Lusitania, Daedalus's Other Regret, Mavis Davis and the Nighthawks at the Diner, The Private Life of Ernest Hemingway, The Ricky Harrow Pitcher Show, Illuminatiand Sullivan's Detoursand Julie, his adaptation of Strindberg's Miss Julie. His on-stage performances at the Overtime include The Haunted House, The Professionals,Murder at the Chateau Le Shadow, and a voice performance of Lancelot inHEX. His most recent directing work includes productions of his own most recent worksThe Bronson Pinchot Civil War Cupcake Experience and Dusty Springfield Space Patrolat the Overtime and Waiting for Godot for St. Mary's University. An excerpt from his memoir Turban Cowboy was published in Daily Life though World History in Primary Documents (Greenwood Press, 2009). He is a freelance writer and director whose film and theatre criticism has appeared in the San Antonio Currentamong other publications.


His work is available from Amazon.com in print and ebook formats.
---
Unhappy Campers
by William Razavi
Overtime Theater
Fridays-Sundays,
October 26 - November 17, 2018
Performed at The Overtime Theater, San Antonioon October 26 & 27, November 2 & 3, 9& 10, 16 & 17 at 8:00 pm; November 4 at 3:00 pm and November 11 at 7:00 pm.