Sep. 20 - Oct. 07, 2018
Fridays-Sundays
Nine months pregnant, in labor, and snowed in.
What else could go wrong? A lot!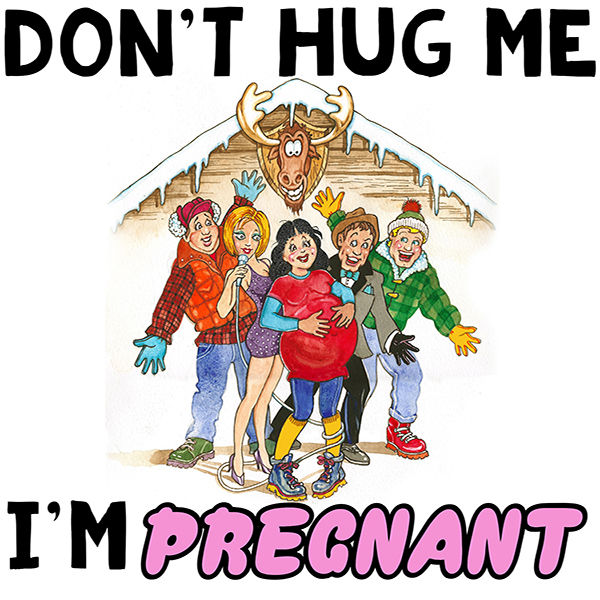 The Hill Country Community Theatre brings a bundle of joy into the world with the first show of its 2018-19 season - the hilarious musical comedy "Don't Hug Me, I'm Pregnant," book and lyrics by Phil Olson, music by Paul Olson, opening on September 20 and running through October 7.
The folks from Bunyon Bay, Minnesota are back! Clara and Gunner Johnson own a little north woods bar called "The Bunyan". Clara is 8 1/2 months pregnant with their first child, and today she's looking forward to her baby shower, getting lots of presents, and taking a break from her raging hormones. Suddenly, a freak snow storm, a "tsnownami," hits Bunyan Bay and they find themselves snowed in. No one can get in or leave. Gunner's worst nightmare comes true when Clara goes into labor and he realizes he's going to have to deliver the baby in the bar!
The show features seventeen uproarious songs, including: "Babies and Beer," "Bun in the Oven," and "If Men Had Babies, We'd All Be Extinct." Playwright Phil Olson will be attending opening night and will be available for a Q&A after the performance.
---
Don't Hug Me, I'm Pregnant!
by Phil Olsen, Paul Olsen
Hill Country Community Theatre (HCCT)
Fridays-Sundays,
September 20 - October 07, 2018
Fridays and Saturdays at 7:30, Sundays at 2:15 p.m.
"Don't Hug Me, I'm Pregnant"" will be presented at the Hill Country Community Theatre, 4003 W FM 2147, Cottonwood Shores, TX 78657. The show will open on September 20, 2018 and run for three weeks through October 7.
Admission is $25 for adults and $12 for students with a valid ID. Reservations can be made by calling (830) 798-8944, online at www.theHCCT.org, or at the box office on September 13 for the general public. HCCT season subscribers and may make reservations starting September 10.